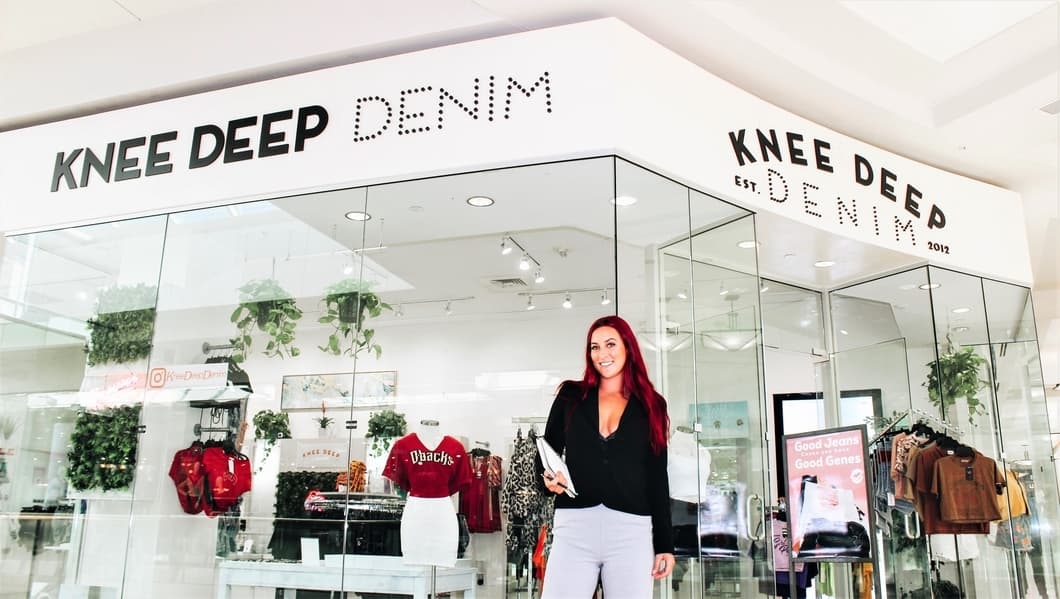 At nearly 6 footl, RaeAnn Luksza, owner and designer of Knee Deep Denim in Scottsdale, brought her dream to life after experiencing the limitations that can come with shopping for women's clothing.
"I'm quite tall; I'm about 5'11," Luksza said. "When I was growing up, none of my clothes fit. I always had to alter them."
She is desperate to provide more options for women when it comes to sports apparel.
"That's where my company really started. I'm annoyed at the options for sports apparel for women. They change the color to pink and make it a V-neck and think that's what women will wear when they go to sports games.
"I knew that we could do better."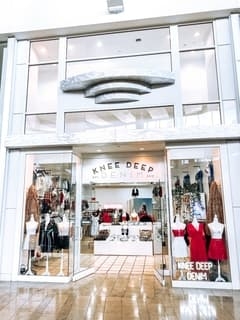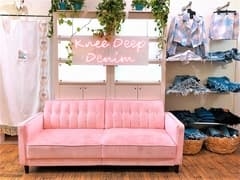 Luksza started cutting up Cardinals and Diamondbacks T-shirts. She let it evolve from simple little tweaks to splitting shirts down the middle and adding rhinestones.
Her grandma taught her how to sew on a yard sale sewing machine. All through school, she had to alter her own homecoming and prom dresses.
Things really took off in the summer of 2012. On Pinterest, she learned about a trend of dip-dyeing shorts and making a little tribal pattern on the bottom.
She tried out the new trend with her sisters, and they ended up having fun with it. She shot pictures over to her aunt, who owned a boutique in Colorado at the time.
"My aunt asked me to make some for her boutique. I actually made them, and I got $9 a pair," Luksza said. "I ended up making more than she needed, so we put the rest on Etsy."
On Etsy, a website focused on handmade and vintage items, Knee Deep Denim got started. It moved to pop-up shops to having two locations and a sister store.
"The Knee Deep Denim in Fashion Square Mall is our flagship store," Luksza said. "That is the store where everything came to life."
Luksza's goal is to empower women to find their favorite item in their closet.
"I want them to fall in love with every piece of clothing they buy from us. I want it to be like nothing they've ever owned before."
The company is unique by allowing the women who work in the store to have creative control over some of the designing. They get a whole section of T-shirts that Luksza leaves completely up to them. They can design them or manipulate them however they want.
Luksza just launched her second brand called Eden Vigor, Knee Deep Denims sister store.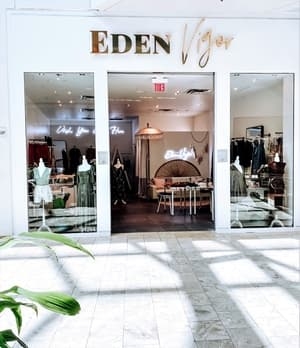 It's in Scottsdale Fashion Square, and it has been open for two weeks. It's classier. The brand doesn't have T-shirts or jeans. Eden Vigor carries dresses, evening wear, swim and swim covers, and satin skirts.
"This store appeals to the Scottsdale woman who is running around picking up her kids and then caring about what she's putting on her body," Luksza said. "I really wanted to have some clothes that relate to an older audience."
One thing Luksza holds dearly to her heart is her team.
"Some of us have degrees. Some of us do not. I do not. But we're all figuring it out and working together. I want it to be a place where my team feels like they can accomplish their dreams. And maybe they're working their way through college. Maybe they're just working their way through paying bills. I say we a lot. I'm the only owner, but there's no way that I could do any of it without my team. I'm very grateful."
Knee Deep Denim in Scottsdale Fashion Square
(602).502.6074
By McKenna Leavens
Scottsdale Digital Group