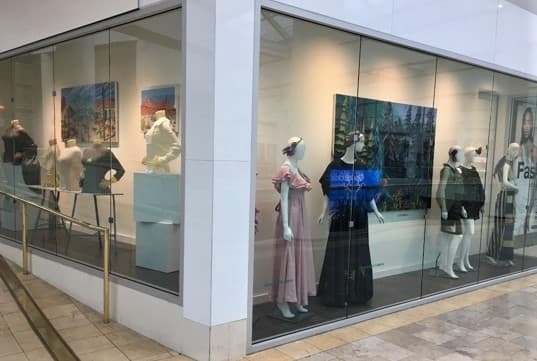 Scottsdale Fashion Square is using its weight as a top regional fashion center to help up-and-coming student designers at Arizona State University by displaying their work.
The mall is highlighting a series of mini-collections designed by ASU students, giving budding designers a platform to show their talent and shoppers to see emerging creations.
It's part of a Fashion Construction II class assignment, and it's displayed on the third level directly above Prada, including both students' featured designs and their mini collection with each designer's story.
"As the leading mall in the Valley, I think it's great exposure for students to be directly exposed to the fashion community," said Dennita Sewell, ASU School of Art professor of practice.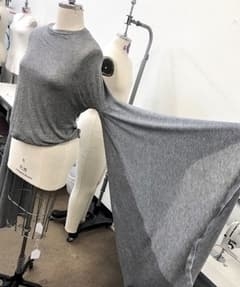 One of Samantha Viti's bell sleeve designs in studio development. Photo courtesy Samantha VitiSewell said that when compiling the collections to display at The School of Art's facility, she wanted to incorporate art in the background to emphasize fashion as an art. Sewell chose students' collections based off of a complementary visual goal of lightweight and almost fairytale-like appeal.
Set up in the fall of 2017, ASU's fashion program began giving students the platform to join the global industry through solid ties to the Scottsdale market. Classes in the program speak to the broadness of the fashion business while incorporating design delineation, promoting, planning, development and innovation.
The Collection Development class involves not only students' fashion pieces but also the marketing, ideation, sourcing and sketching of their mini collections. Most students ended up with two to three complete looks – making everything from scratch.
Samantha Viti, senior at The Herberger Institute of Art, said the project allowed her to develop her own personal brand and sense of style.
"If Vivienne Westwood and Chanel had a baby,' she said, "I feel that would represent my sense of chic, punk style."
Viti said her biggest challenge was executing her ideas off paper, but she learned a lot from professor Irina Tevzadez, ASU School of Art instructor, who led the Fashion Construction II assignments
Senior Amanda Reimers, said she focused her mini collection on a luxury-interested customer base. The light pink dresses accented a feminine silhouette with layered draping tied at the waist with delicate bows. The collection is perfect for a day spent shopping in Scottsdale.
Professor Tevzadez said Reimers has a clear eye for where she wanted to take this project and the direction she seeks to take in her career overall. Tevzadez explained that although the process was complex, Reimers did an excellent job draping the muslin fabric used to make it look lightweight.
Students began their creative process with research helping them to create a mood board and color palette. They then created their own patterns and textiles, which eventually were sewn together to create the final pieces.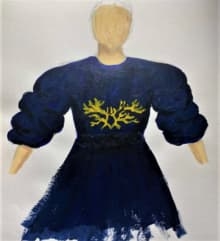 Early sketches by Zurishaddai Calixtro represents oceanic scenery. Photo courtesy Zurishaddai Calixtro
Another talented student featured on display, Zurishaddai Calixtro, drew her inspiration from Laguna Beach and based her entire collection off the oceanic scenery. The dress on display in Scottsdale Fashion features hand-embroidered gold to represent waves from the ocean. Additionally the combination of light blues and pinks complemented her fellow students' creations beautifully.
Alexander Jakubowski's collection, Rings Of Saturn, embodies his love for astronomy and sci-fi movies. Jakubowski said the white puffer jacket and orange and blue stripes of this mini collection are "a small sip of what's to come" in his full five-piece collection. His work felt easily futuristic with plenty of room for expansion.
Many students found a new sense of inspiration through this project and are already making plans to take their career to the next level. Reimers will be interning with New York lingerie store Kiki de Montparnasse this summer and Jakubowski has plans to study at the New York Parsons School of Design.
Students will also be continuing the work on their mini collections in the Herberger Institute's Construction III class. Their mini collections will remain on display through the spring.
By Autumn Schieferstein
More images of the student's work: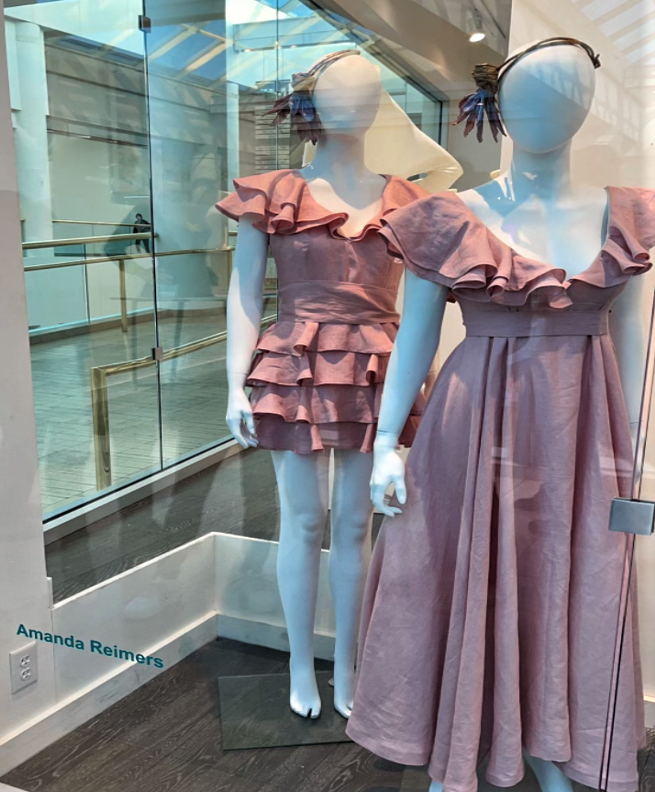 Amanda Reimers' muslin fabric collection on display at Scottsdale Fashion Square. Photo courtesy Amanda Reimers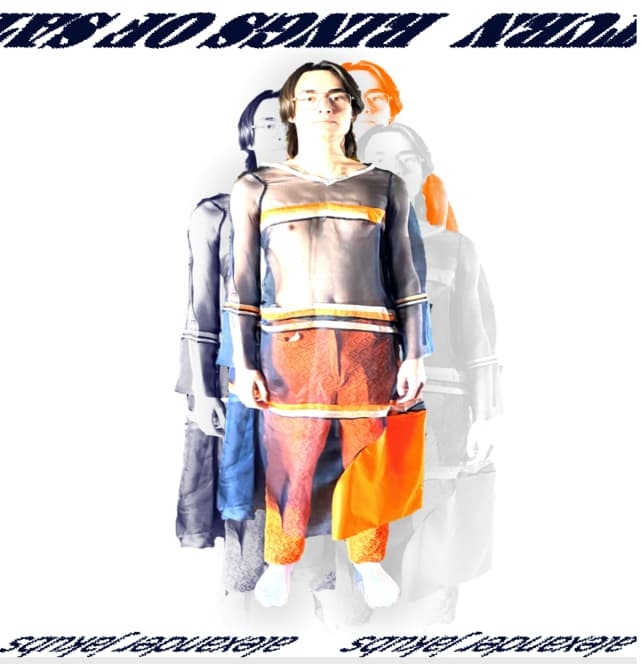 Early sketches of Amana Reimer's designs focused on the luxury market. Photo courtesy Amanda Reimers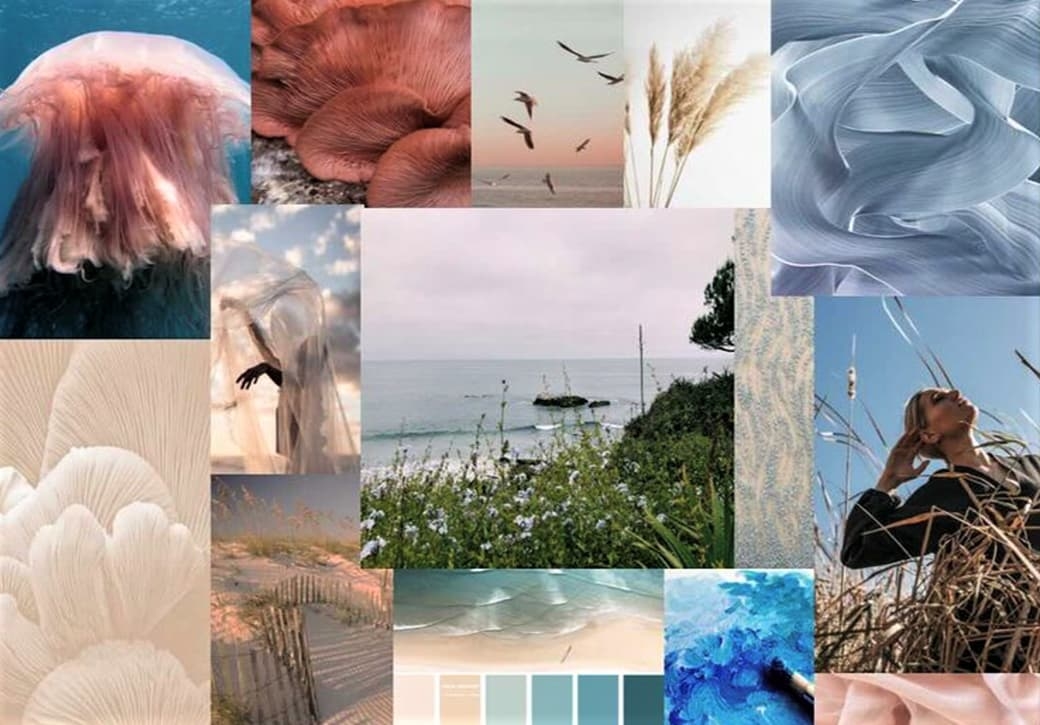 Mood board inspiration from Laguna Beach figured in Zurishaddai Calixtro's collection. Photo courtesty Zurishaddai Calixtro
e