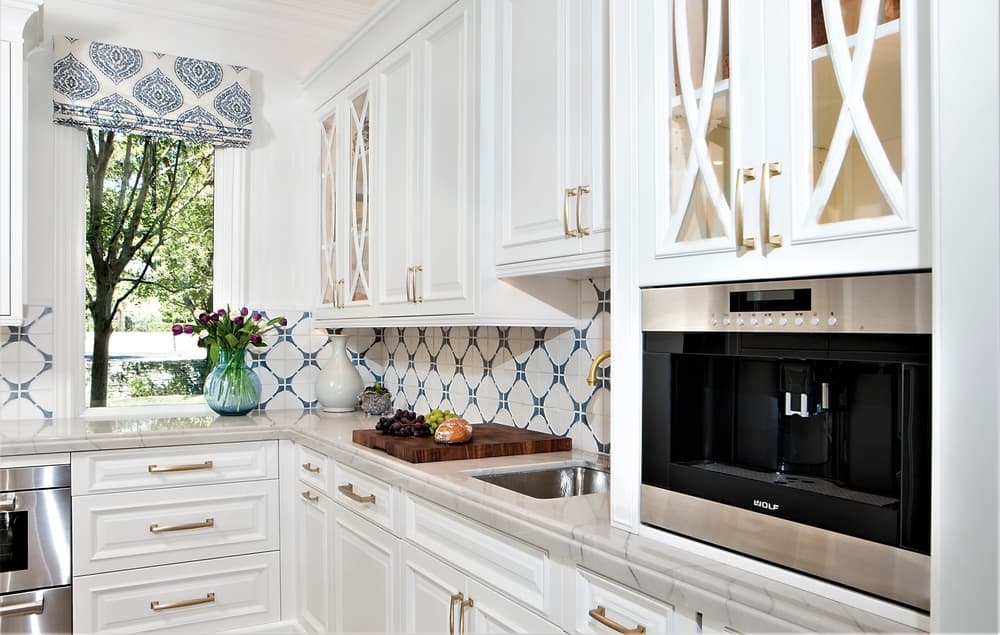 For years, Scottsdale interior designer Tanya Shively has promoted healthy homes, healthy living and a healthy Earth –– all particularly worthy goals during COVID-19.
She is celebrating 15 years of Sesshu Design Associates, which provides sustainably focused interiors for her clients in and out of the Valley. The name honors the 15th-century Japanese artist, Sesshū Tōyō.
Photo above: Shively transformed this Paradise Valley kitchen with new cabinets, countertops, backsplash, appliances, plumbing and lighting. Photo Joe Cottita.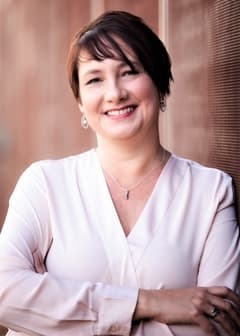 Tanya Shively"Your home can be any style, from traditional elegance to modern minimalism, and still be healthy and sustainable," said Shively, ASID, one of the Arizona's first LEED-accredited interior designers. Administered by Washington, D.C.-based U.S. Green Building Council (USGBC), Leadership in Energy and Environmental Design certification documents that a building is environmentally friendly.
She has completed many large and small renovations as well as whole homes based on her "WELL Designed" principles of Wellness and Wellbeing, Eco-consciousness, Luxury and Livability.
First of a series celebrating interior designers in the Scottsdale area.



"The concept is that we design your home to support how you want to live, with special attention to creating a healthy home for your family," explained Shively, who offices in the Cattle Track arts compound and is moving in February to the Miller and Indian School roads area, also in Scottsdale. "The win-win of choosing materials that are better for your health and respectful of the planet's resources is our overarching mission."
But "WELL Designed" concepts extend beyond these, said the Scottsdale resident. "It takes the idea of living well into emotional concepts of well being and wellness, which rating systems do not address."
COVID-19 Has Changed Us & Our Homes
Shively was born in Jackson Hole, Wyoming, and grew up admiring and visiting adjacent Grand Teton National Park. "The love of nature, preserving its beauty for future generations and protecting the environment, was always part of my mindset," she said.
Her father had asthma, which also inspired her to create home interiors free from toxins, mold, dander, allergens and other dangerous elements. "I knew that I wanted to provide a high level of design for clients who wanted to be more sustainable and healthy," she added.
Early on, architect and author Ed Mazria fortified her eco-awareness. He started the 2030 Project, which envisioned making all architecture sustainable by 2030.
"He opened my eyes to what an impact architecture and buildings have on the environment and, therefore, how much we can change by being more thoughtful about how we design," Shively noted.

After living in Michigan and Montana, she moved to the Valley in 1992 and worked with Susie Hersker and Design Directives, part of the Interior Studio Group in the Scottsdale Airpark. She then opened Sesshu Design in December 2005, fully committed to green principles.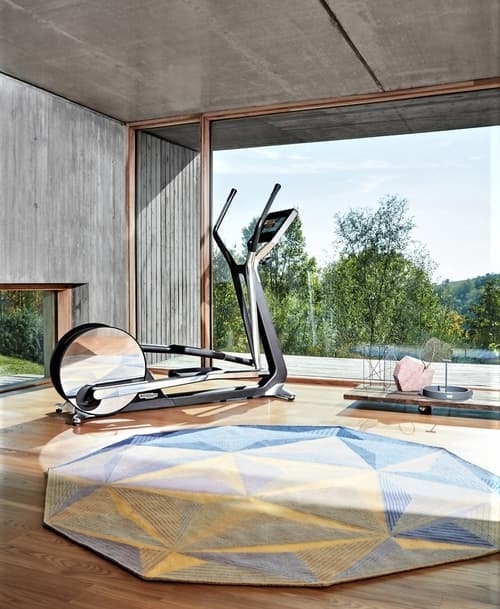 A great view is very inspiring and a good focal point for creating motivation in your exercise room. Photo Technogym.
Some of these directives include using nontoxic materials, extensive natural light, reclaimed woods and establishing connections to nature through courtyards, fountains, plants and plant walls. Other well-being components she incorporates are lighting-control systems, which can mimic the circadian rhythm of natural daylight, generating more daily alertness and more restful sleep.
For her clients, she also specifies ENERGY STAR® appliances and Smart home technology to monitor and control a home for comfort and utilities savings. Administered by the U.S. Environmental Protection Agency (EPA) and the U.S. Department of Energy, the program furthers energy efficiency.
Increasingly popular is Universal Design (UD) which includes directives for making a home more accessible and useful for everyone, in particular, the wheelchair bound, the frail or those with arthritis. For them, just turning traditional door knobs and faucets can be difficult. Universal Design elements include fewer stairs, well-lighted passageways, the careful placement of rugs to avoid hazards, lighting-control systems that automatically provide a lit pathway, lowered countertops and vanity tops and widened hallways.
Additionally, home automation systems automatically control window coverings according to sun patterns, helping reduce energy consumption from air-conditioning and eliminating stressful glare. "The drapes/blinds/shades close during the hottest part of the summer day," she said, "and they can also open to allow passive solar heat gain during winter months."
And, touchless faucets in the kitchen and bath are becoming more popular and help minimize the spread of germs. Whatever the size of your home or its level of luxury, the health of you and your family, friends and guests –– is paramount.
"When planning your new-build or renovation, don't make that an afterthought," she said. "In time spent and cost, it's best to start with the healthy design priorities and tactics up front rather than adding them later in the process."
COVID-19 Has Changed How We Look at Our Homes
As the pandemic has shifted more time away from the office, it has underscored the benefits of a healthy home. "People have realized just how important their health is and also how their living environment can impact and affect both their physical and mental well being," she explained. "Our homes are truly our sanctuaries and refuges from the world, and creating a space which lifts your spirit and functions throughout your daily activities is something we all deserve."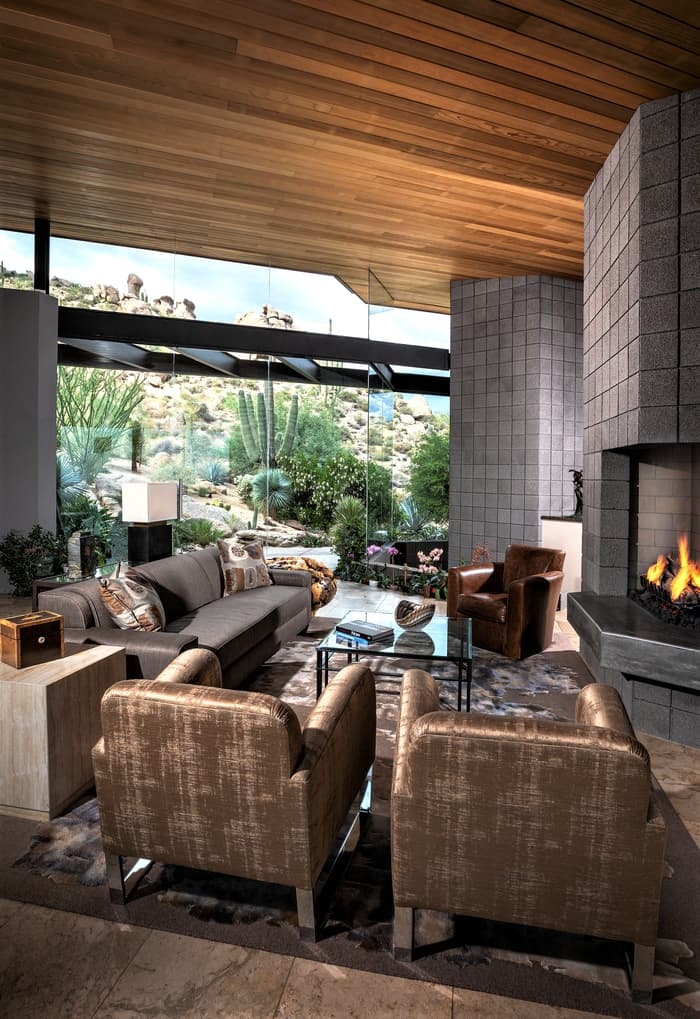 Shively refreshed this living room of this Desert Mountain contemporary home designed by Bing Hu. Photo Jerry Portelli Architectural Photographic Special
Feng Shui ("wind water") principles, maximizing energy flow into the home, maintains its popularity. These centuries-old Chinese principles emphasize home siting and the placement of doors and windows and even furniture. "With so many people working from home, the proper layout of your workspace for both comfort and function is so much more apparent," she said.
"For years, my clients have been asking me about exercise rooms, and meditation rooms and dedicated offices are becoming popular, with people staying at home more and reconsidering their living spaces," she added, noting that her clients are also inquiring about enhancing their outdoor spaces.
Because of the staying-at-home lifestyle and pandemic-generated negativity, her clients are also requesting for bolder, more dramatic color in paints, fabrics and accessories. And, in powder rooms and dining rooms, texture and darker walls are popular.
"Where neutrals are still around, they are trending toward warmer tones again," she added. "They still want the light, bright, open feeling, so walls and flooring tend to be on the lighter side but maybe not white anymore. At the very least, bringing in some colorful accents in pillows or occasional chairs can help to liven up a space."
"Grey does not make us feel happy, and color definitely has the power to lift our moods," she said. "I think we have all had enough of the depressing news this year, and are eager to feel cheerful again."
Tanya Shively is available at 480.275.2968, This email address is being protected from spambots. You need JavaScript enabled to view it., Facebook.com/sesshudesign and through sesshudesign.com.
By David M. Brown
Scottsdale Digital Group