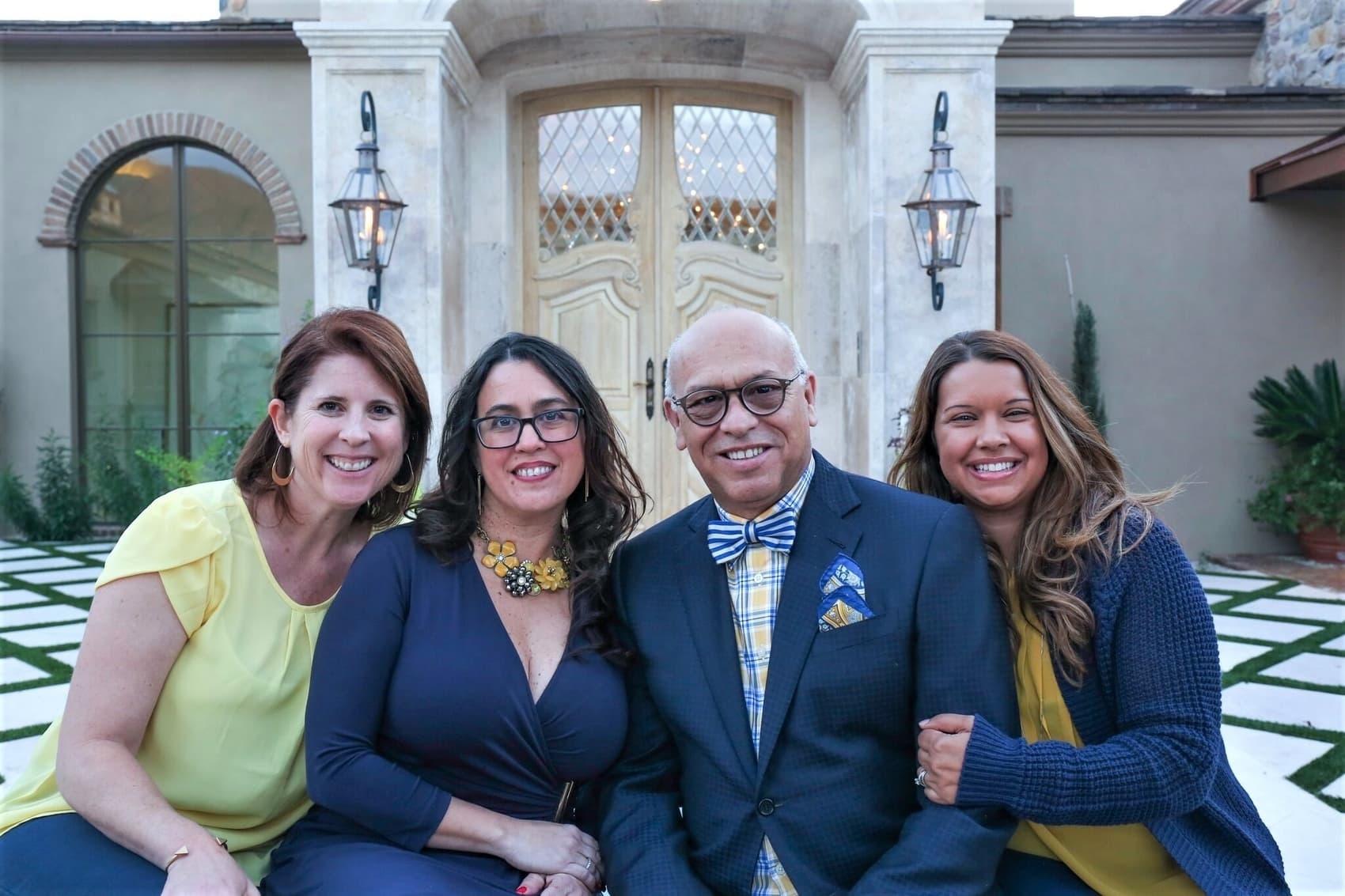 Three women partners are leading the next generation at Candelaria Design Associates.
Founded by Mark Candelaria, AIA, 21 years ago in Phoenix, this architecture firm is widely celebrated for its luxury home designs, customized to each owner's lifestyle.
Photo: Candelaria Design Associates partners Meredith Thomson, Vivian Ayala, Mark Candelaria, Evelyn Jung. (Photo: Pearl Blossom Photography)
The trio of principals at Scottsdale-based CDA are Vivian Ayala, who joined the firm in July 2000; Evelyn Jung, who has been with the company since October 2005; and Meredith Thomson, AIA, an architect hired in the spring of 2013. Complementing them are 15 associate architects and support staff including Tiffany Candelaria, Mark's daughter and the media manager, and the firm's Director of Lasting Impressions, Janice Rantanen.
"Vivian, Evelyn, and Meredith have not only helped Candelaria grow in the past two decades, but these multi-talented women have also allowed us to achieve and maintain our signature of imagining lifestyle-driven homes for our clients, homes that we design to their design," says Candelaria, a Denver native who attended ASU's architecture school.
CDA's history of homes range from 2,000 to 60,000-plus square feet, mostly in up-market Valley communities such as Arcadia in Phoenix, Paradise Valley, Desert Mountain, Estancia and Silverleaf in north Scottsdale, and out-of-state in areas including Santa Barbara, California, and the Hamptons in Long Island, New York.
"Each of these women has been essential to our team's success," adds Candelaria, who has recently transitioned to a robust semi-retirement including home designing, hosting gourmet cooking classes, blogging and podcasting, and leading travel tours to Napa, Spain, and Italy. Those are scheduled to resume in 2021.
"I often get the sound bites and the glitter," he adds, "but Vivian, Evelyn, and Meredith, and my wonderful wife Isabel have all allowed me to step back a bit and enjoy some of my life's other passions."
Vivian Ayala –– The Hills Are Alive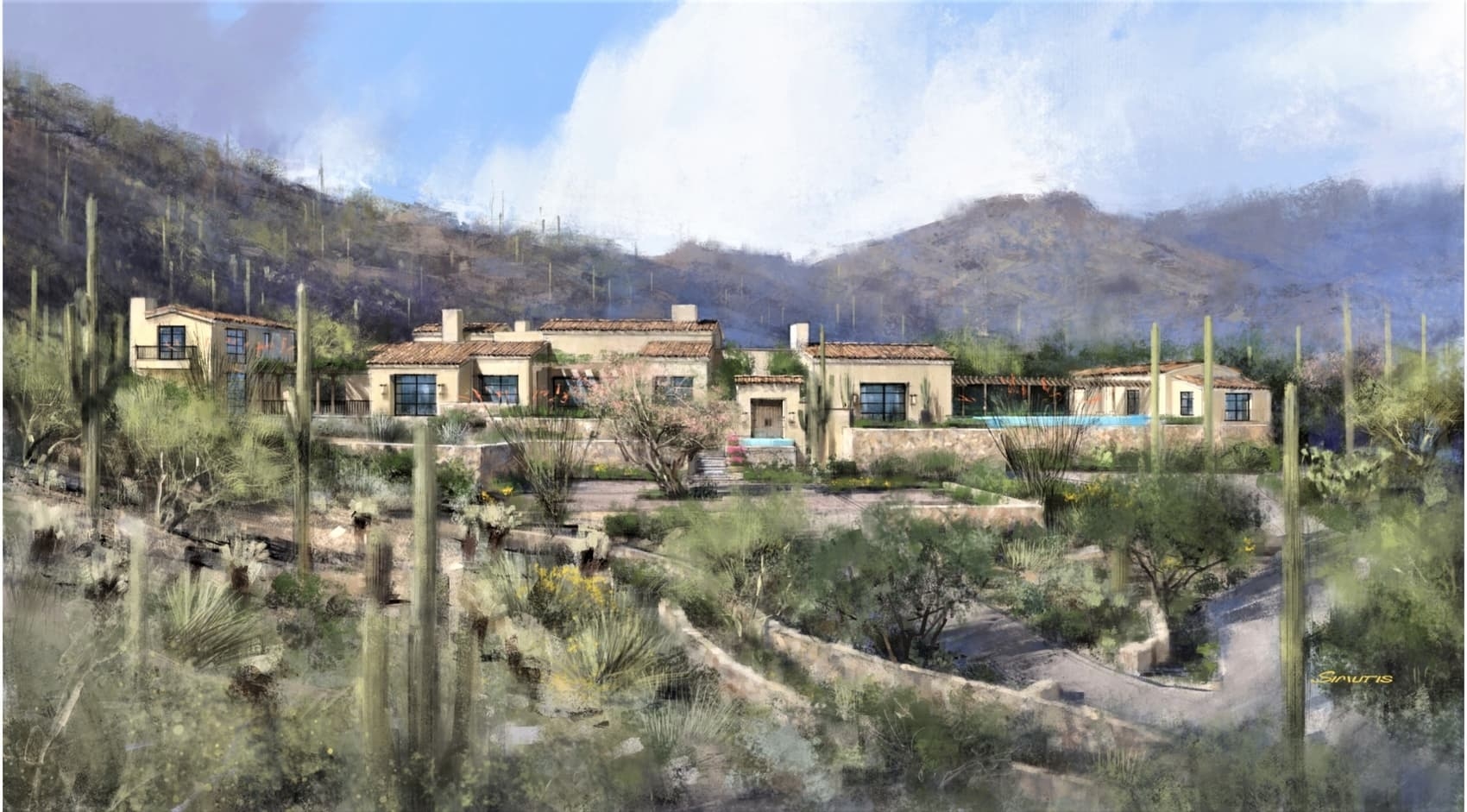 Vivian Ayala was the principal for Casa Ibiza, Arizona (Candelaria Design Associates, rendering Jeff Simutis)
A year after founding CDA, Mark already needed assistance at the drawing boards. He quickly added Jeffrey Kramer, a registered architect, and Vivian Ayala. Born in Puerto Rico, she graduated from the University of Puerto Rico with a bachelor's degree in environmental design and added a master's in architecture at Arizona State University in 2000.
Her job start is a classic story of determination. Candelaria tells it often.
She heard about the opening shortly after graduation and called for what became a "life-changing" interview. She immediately impressed Mark with her portfolio, work ethic, and spirited personality.
But, with a Puerto Rican accent from her birthplace, Mark sensed possible communication challenges. So he held off making the hire and left for one of his early Italy tours. When he returned, Vivian was diligently working at one of the firm's computers, thinking that she had been offered the job.
Candelaria asked his front desk coordinator what had happened.
"We thought you hired her," she told Mark.
"Vivian showed up the next day, so we put her to work," she replied. "I asked how her work was," Mark recalls, "and she responded, 'Amazing!' Well, let's keep her then' was my happy response."
Ayala has been with the firm since and was named a principal and part owner on May 12, 2017.
"Anything is possible with hard work and commitment," Mark says.
"I grew up in a very small family atmosphere, and I am the middle child of three daughters," notes Ayala, who will celebrate 20 years at CDA in July. "My older and younger sisters chose to be in the medical field, while I, as middle child, decided to go on the more artistic side with my interests in art and architecture."
Today, she enjoys her family, 14-year-old daughter, Gabby. "She is one of my biggest teachers," Ayala says. "I love to spend time with this young soul who makes me laugh every second."
At CDA, she and Thomson are both Directors of Architecture and Production. Ayala specializes in hillside projects in Paradise Valley, which have always been her passion.
"I have been blessed beyond words to have been given the opportunity, along with these strong women, to become a principal of our company," she adds. "It is amazing to share the dynamics of this women trio and the much fun we have every day."
Candelaria has inspired excellence in her and everyone, she says: "excellence from the moment you serve a coffee to a client, from the moment you make a client smile, from the moment your client shares their personal journey. He offers everyone in the team opportunities and incentives to excel and to succeed."

Sanctuary home, Vivian Ayala, principal, Candelaria Design Associates. (Photo courtesy Candelaria Design Associates)
Evelyn Jung –– At Home at Work, At Work at Home
Jung joined CDA in October 2005 as Mark's executive assistant. Two years later, as the Great Recession began its multi-year stay in Arizona, she became the firm's Director of Finance and HR. On Jan. 8, 2015, she was named an associate and three years later a partner.
She manages the business operations, human resources, marketing, and business development.
"It's my job to keep the company running smoothly, so my partners can focus on the architecture," she says. A football devotee, she sees it as a metaphor for what makes a team great: "I use 'coaching' as a comparison to management every day."
Born and raised in Seattle, Washington, she moved to Japan and throughout the United States for more than 20 years with her Air Force family.
"Traveling is in my blood, and I have always appreciated different cultures, religions, and scenery," she says. "When you move from place to place, you learn how to adapt and adjust, so it was valuable experience at an early age."
She moved to Phoenix when she was 14 with her mother. Later, after working in management at David's Bridal in Scottsdale, she decided to take a temporary job so she could focus on her education at ASU. This brought her to CDA.
"My pursuit for my degree at ASU was sidelined for a while, but slowly and surely I'm very close to completing my bachelor's degree of science in economics –– for my kids at the very least," she says. She's also working on a real estate license.
Many companies, Jung believes, forget that team members are mothers, fathers, wives, and husbands.
"Our jobs are only one part of our lives. We find it very important connecting with our team and now more than ever making sure that they are mentally, emotionally, and physically healthy," she says, noting that the CDA team has been working at home since March because of the pandemic.
As a result, she has been challenged by her many duties for the firm while also home-schooling her two boys, Nathan, 8, and Evan, 5.
"All you can do when you don't have a choice is adjust and adapt, which is what our family did by working in the day and teaching at night."
She and Scott celebrated their 10th wedding anniversary on June 5.
"He is forever my beacon," she says. "I don't know how it happened, but I'm surrounded by people that I love and adore at work and home."
The people and the culture at CDA reveal the spirit of the multifaceted Candelaria, one of whose core messages is, echoing similar thoughts of her mentors and parents: "You don't have to be wealthy to live well."
"Our mission encompasses so many aspects of our lives: architecture, business, food, travel, marketing, and art," Jung adds. "My partners Vivian and Meredith and my constant mentor, Mark, have the same passion and talent, which makes our team unstoppable."
Meredith Thomson –– The Joyous Puzzle of a Remodel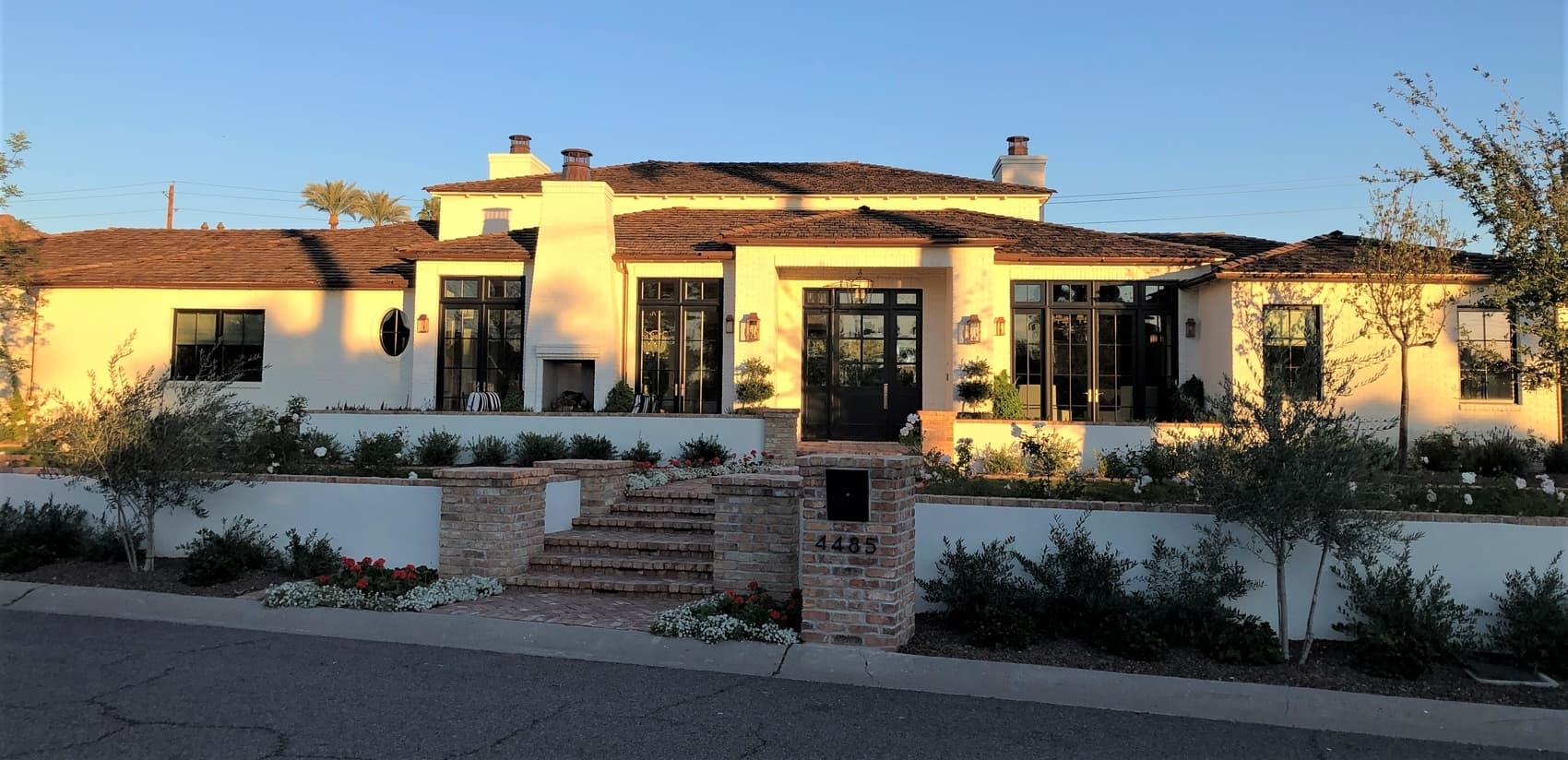 Arcadia home rebuild, Meredith Thomson, principal, Candelaria Design Associates. (Photo Meredith Thomson)
Thomson is also a Director of Architecture Design and Production. "We always have at least two of us on a project, and we work in tandem with the project managers," she says. "Mark, Vivian, and I are in constant communication, so we all have a good understanding of goals for each project, so we can jump in at any time to give guidance."
She grew up in the citrus-lush Arcadia neighborhood of Phoenix. Her parents moved to the Valley from Indiana, and they live there during the summer and in Arizona for the winter.
After graduating from Xavier High School, Thomson attended the University of Notre Dame in Indiana, graduating in 2003 with a bachelor's degree in architecture. For her fourth year of the program, she traveled throughout Italy and Europe, which intensified her passion for traditional design.
Back in the United States, she interned that summer in Chicago with Liederbach and Graham Architects, which helped her discover residential architecture.
After graduation, she went farther east to work with Fairfax and Sammons Architects in New York City. For three years she completed projects in and outside of Manhattan, including a West Village townhouse and a Long Island summer home.
Missing the West, she started making her way back home and ended up at Peter Pennoyer Architects, a New York-based firm with a San Francisco office. She then transitioned to interior design with Tucker and Marks Interior Design, also in the city. In all, she was in San Francisco for seven years.
She returned to Phoenix in the spring of 2013. Her brother and his family moved from San Francisco as well. Today Thomson lives with her boyfriend Ryan and his three "adorable kids," Ellie, Patrick, and Tatum.
"When looking for firms to transition to leaving San Francisco, I was thrilled to be introduced to Mark and his team," she recalls. "My mom actually recommended I reach out to him because she was seeing his signs all over the place. There was an instant connection about hand drafting and traditional architecture, and I knew I had found my home."
Meredith became a partner and principal of Candelaria Design in December 2018.
"Evelyn and Vivian are two of the strongest, hardest-working, and smartest women I know," she says. "I am honored to be by their side. They elevate me, and each of them brings something unique to our team."
Thomson loves renovations, as much of her work in New York and San Francisco was on existing homes.
"I love the puzzle of a remodel and applying my knowledge of traditional traits like symmetry, proportion, and scale but introducing more modern touches," she says. "It has really turned out to be my passion."
Designing the Next Decades
The CDA future: Expand the firm's luxury home portfolio throughout the country, develop its exciting lifestyle brand, and continue the legacy of quality architecture and customer service.
"All of us know that being truthful to ourselves and our clients will lead to the path we all want: success," Ayala says.
Adds Thompson: "We come to work every day not for a job but for the passion we share at Candelaria. The day it becomes a job is the day our magic disappears. I strive to make sure that magic continues."
And Jung: "Mark has taught us that finding people with the same drive and ambition only makes the firm stronger. At the same time, we encourage collaboration and leave the egos at the door. All of us want to continue a legacy that eliminates glass ceilings, encourages innovative designs, and inspires people to live life to the fullest."
David M. Brown is a Valley-based freelancer (azwriter.com).