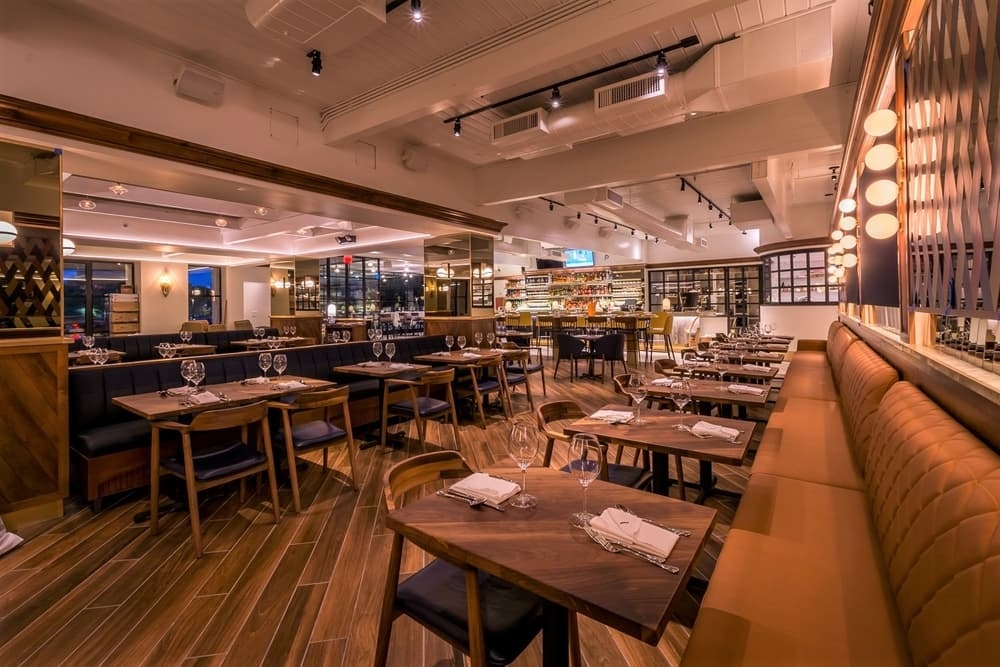 When she was 15, Chef Rochelle Daniel started preparing food for Serena, her hungry, then happy, older sister. Since then, she has continued creating outstanding dishes –– and making many more people happy at restaurants in Arizona.
The Phoenix native has been the executive chef at the Fat Ox in Scottsdale since its opening in November 2016. The 7,000-square-foot restaurant in the former Quilted Bear space at the southeast corner of Lincoln and Scottsdale roads is Chef/co-owner Matt Carter's inspired celebration of the hearty cuisine of the Piedmont area of rural Italy.
Carter is well known for his first Valley restaurant, Zinc Bistro, and The Mission and House Brasserie, all in Scottsdale. His business partners for Fat Ox are Valley restaurateurs Brian Raab and Mark Drinkwater, son of former Scottsdale Mayor Herb Drinkwater.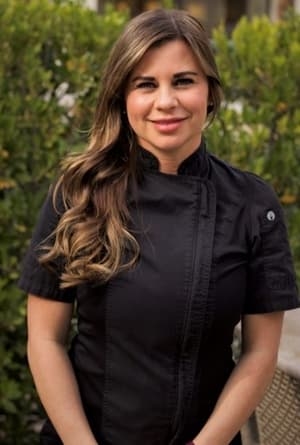 "Our family was always cooking from scratch and eating together, so that's what being a chef is for me: bringing people together and making them happy through food," explained Daniel.
"None of my family members were chefs, but we were always big into cooking from scratch and eating together as a family," she added. "My mom was a health nut and made us eat healthy, so I thought going into a kitchen I could cook with butter and sugar and cream."
The name, "Fat Ox" ("bue grasso" in Italian) derives from the eponymous food festival held every December in Moncalvo, a village in Piedmont, about 28 miles east of Turin in northern Italy. In addition to local cattlemen, Fiera del Bue Grasso also attracts the country's top chefs and winemakers; together they prepare a traditional meat stew as part of the festivities.
In addition to meat dishes aligning with the cattle-country inspiration, Chef Daniel and her team also offer dishes from the Ligurian coast, centering on Genoa and Sicily. These include poultry and seafood plates roasted over local mesquite; cheeses, house-made pastas, and Caesar salads.
The food can be paired with Fat Ox's cocktails, craft beers, and a fine wines overseen by house sommelier Mark Rink. To complement Chef Daniel's selections, he shared a 2016 Il Borro IGT from Tuscany, a magnificently balanced blend of Cabernet, Merlot and Syrah, aged in French oak barrels for more than a year.
Fat Ox "showcases how to use authentic, quality products and still have a modern approach to it," Chef Daniel said. "We like to take one product and do multiple techniques to showcase it."
For instance, the highly respected Chicago Meats by Linz is a purveyor of choice at the restaurant, and its prime Angus is used in a number of her plates. That includes a starter Chef Daniel suggested, the smooth but delightfully tangy Linz prime beef tartare, with white balsamic, preserved lemon and Parmesan and marigold leaves, and variously sized steaks such as 8-ounce Wagyu ribeye cap, the 16-ounce New York, and the 20-ounce bone-in ribeye.
Chef Carter noted the longevity and continuing success of their relationship: "Because we've worked together in a kitchen for more than 10 years, consulted on other projects such as menu development and recipe testing, we have definitely established a comfort level and a similar approach to solving problems," he said.
"And, even though she's got a completely different creative skill set when it comes to plating and food styling, it's complementary to mine," he added, "and I knew it would be good to have a female chef's touch in that area."
Phoenix to Scottsdale to Sedona to Phoenix
Chef Daniel attended Madison No.1 Elementary School in Phoenix and Sunrise Mountain High School in Peoria, before graduating from the now-closed Scottsdale Culinary Institute. She then worked for five years in professional kitchens Valleywide including Arrowhead Country Club, Continental Catering, The Four Seasons, and the Painted Horse Cafe. At this time, she also was personal chef for families with nutritional needs.
She first worked for Chef Carter at his Zinc Bistro in Scottsdale, was mentored by him, and excelled. He named her chef de cuisine.
"He taught me the brigade system and the classic French techniques that I still use today, how to run a restaurant and working under pressure," she explained. Under the brigade system, each station prepares a different part of the menu, such as the poissonier (fish cook) and the sauté cook.
Two other Zinc Bistro chefs, Jeremy McMillan and Adam Schop, taught her to nurture a thick skin, especially in a male-dominated industry.
"They made me tough, which definitely helped me being a female in the kitchen," she explained. "The pressure of working with them at Zinc just made me a better chef."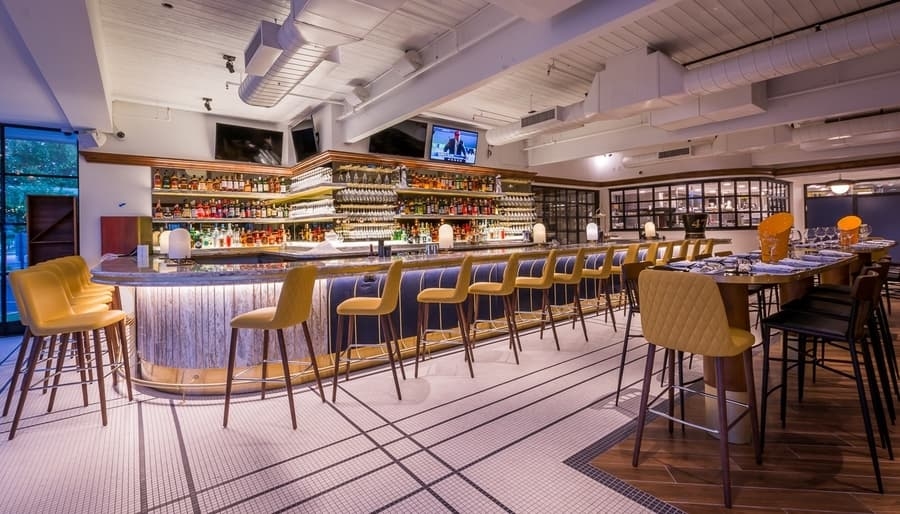 But the glass ceiling made her work harder. "Now I feel that people embrace female chefs," she said. "But in a kitchen, a woman does have to prove herself a bit more than being a male."
Following her work at Zinc Bistro, she was the executive chef for both Cress on Oak Creek and Etch Kitchen & Bar at L'Auberge de Sedona. "I learned how to run a food and beverage department at a resort, all the financial responsibility and budgeting, how to run multiple outlets and building, and designing my own kitchen," she said.
She has also offered food demonstrations through Food Network and was selected as a featured chef for the Bocuse d'Or Team USA fundraiser.
"It was an honor to be selected to one of the most prestigious chef competitions in the world and cook for a fundraiser for Team USA, which was held here at a private home in Scottsdale."
Among her many other honors is being named to the Valley's "Top 5 Sous Chefs" by the Arizona Republic and as "Best Sous Chef" by AZcentral.com; she was inducted into the Arizona Culinary Hall of Fame for 2017.
Now, at Fat Ox, she also schedules chef's tasting menus to showcase foods she wants to cook but aren't on the menu. In this spirit, I enjoyed the Prince Edward Island Mussels and the magnificent Lorighittas, with foie butter and fresh winter truffles, a dish which in some way should join that menu.
"With these items," Daniel said, "it's fun for me to be able to experiment on a smaller scale."
The Fat Ox Experience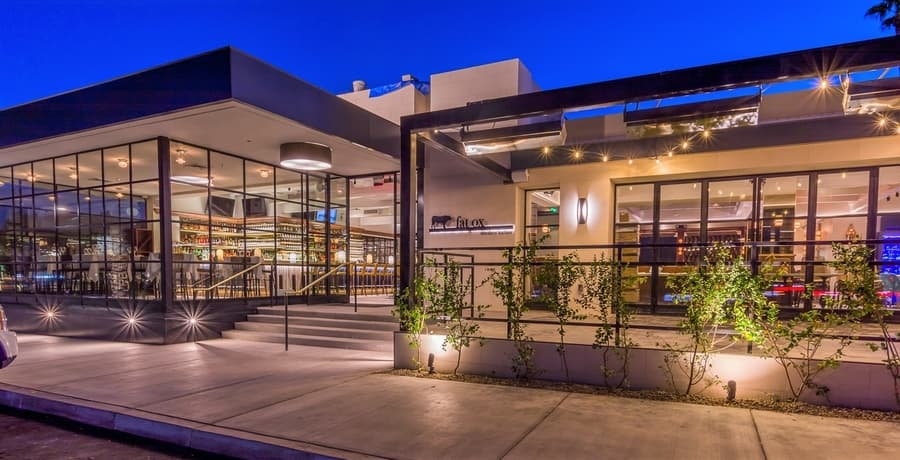 In Daniel's career, she has prepared modern Asian; French; Latin; fast-casual; traditional and contemporary American; and now Italian at Fat Ox. Even with this culinary breadth, she said, "It's about the whole experience, not just the food."
That includes the well-designed space by 3rd story Architecture & Interior Design, blending the urbane look of Milan (leather, designer denim, and a long marble-topped, brass-lined bar) with the rustic themes of Arizona and Italy's cattle country such as wood paneling and communal style tables.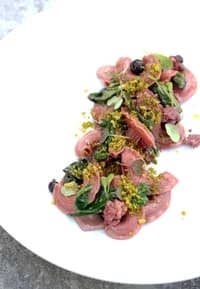 Rosso Creste di Gallo, Fat OxChef's flexible dinner-only menu is designed for sharing among friends. The first, Antipasti, Formaggio & Salumi, for example, includes the Linz Prime Beef Tartare and the Burrata di Stefano, which perfectly balances sweet, sour and spicy elements such as roasted butternut squash, kumquat agrodolce and red peppers. It's served with the house fedunta bread.
The Primi Piatti are all made in house, "fatto en caso," such as one of the chef's signature dishes, the Rosso Creste di Gallo, with red wine, duck sausage, and huckleberries.
"It's particularly important to me because it represents my French background fitting in with my current Italian cuisine at Fat Ox," Daniel said.
And, Secondi Piatti, or main courses, include the meats and fish, slow roasted in a wood-burning grill and rotisserie, such as the 40-ounce Linz Porterhouse, which four can share. Said chef: "I like to do smaller plates but multiple courses where you get to explore and be more adventurous."
Fat Ox is open nightly for dinner Sunday through Thursday (5–9 p.m.) and Friday through Saturday (5–10 p.m.). For more information, visit ilovefatox.com or call 480.307.6900 for reservations .
By David M. Brown
Scottsdale Digital Group
Photos courtesy Fat Ox, Scottsdale