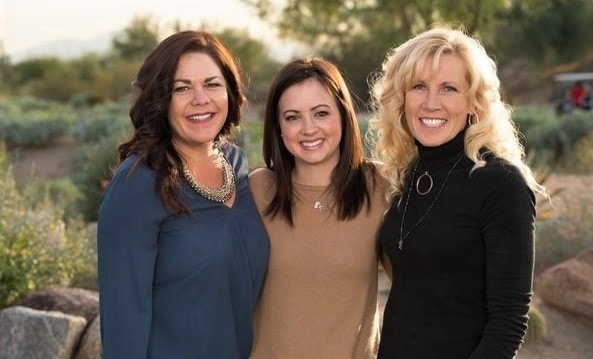 These three North Scottsdale Realtors call themselves The Angel Real Estate Group, but the mission is peripheral to helping families buy and sell their dream homes.
Tara Buntin, Christina Catalano, and Jennifer Noelani Spenser put their money where their mouths are, and they help their and their clients favorite causes and charities as a central element of their real estate business. Angels Group is affiliated with Ventana Fine Properties, but it's not just company dollars that are donated to these local needs. The agents personally give to Scottsdale-area non-profits with every commission check, and they allow the clients to pick where the money goes as well.
(Above: Christina Catalano, Tara Buntin, Jennifer Noelani Spenser)
Buntin, for example, has family members in the police, and among her favorite causes is something called Angels on Patrol – Police and Community Helping Children and Families in Crisis. In this, officers in the community who see families in need or danger and no help available recommend recipients for the charity.
"I was introduced to them last year with their Christmas list," she said. "They had different families that they had worked with throughout the year that needed to have a better Christmas."
For more than 13 years, Catalano has been a Big Sister, part of an organization that pairs adults with kids who need guidance, and adult ear, and a friend with their best interest in mind to mentor – and have fun – with them. She also donates to
Spenser, who has been in North Scottsdale for 35 years, and the team also partner with the Scottsdale Healthcare North Neonatal Intensive Care Unit's Parents' Nesting Rooms, providing a place for families with preemie babies. They were featured for the Extreme Makeover of the facility on Fox 10 News.
"We were also able to take the real estate business side and combine out two passions together of giving back and serving our community through real estate," Spenser said.
More than 20 local charities have benefited from the group's giving, including children, families, health organizations, and more.
"Our clients are not just clients for a few minutes," Buntin said, "they are clients for life."
More on the group can be found at AngelsRE.com.