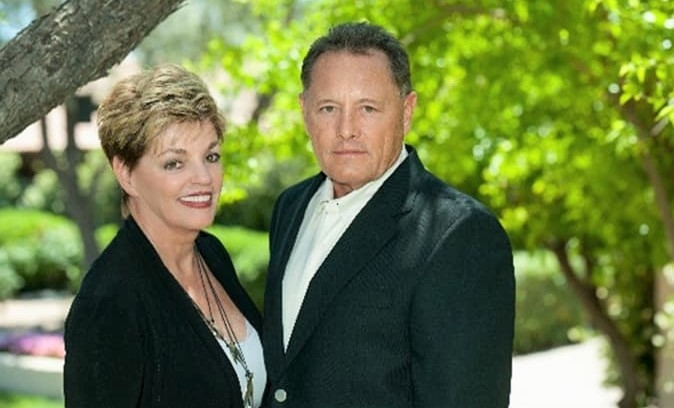 Peggy Rauch bolted out of the real estate gate full of energy and persistence, and earned Rookie of the Year and a Multi-Million Dollar Producer in her very first year. In the 30-plus years since then, she's built a business finding housing dreams for several generations of the same families, mostly in the Scottsdale area.
Varied interests round out her networking connections to the local community, including gourmet food and wine, golf, and her eight grandchildren – and she is a former big game hunter. She has been active in real estate organizations, including holding committee and chair positions, and with community groups. She also has been a manufacturer's representative for active wear and a part-time model.
Photo: Peggy Rauch and Michael Meinerz
While she is a luxury home expert, she doesn't believe in working solely with a single lifestyle group or price range.
"I learned long ago that everyone's real estate needs are important. My target client is anyone who is interested in working with a knowledgeable agent who will listen carefully and then work hard to meet their real estate objectives," Rauch says.
"I want to give the same attention and level of service to a first-time $50,000 buyer as to someone who wants to buy a $5 million house or one of our investor clients who buy several properties a year."
One of her Zillow recommendations notes that Rauch helped them buy a home in the Valley while they were living out of state, and "Peggy made the process easy and stress free."
Rauch grew up in Philadelphia, one of nine children who had to learn personal and group responsibility at home, has lived in the Phoenix area since 1979. She started out with a big real estate company and realized that she was doing her own marketing and fulfillment and decided to create her own brokerage.
She now works with her husband, Mike Meinerz, at The Peggy Rauch Luxury Group at 7297 N. Scottsdale Road. Her specialties include buyer's agent, listing agent, relocation and consulting.
Peggy Rauch
602-206-3336
This email address is being protected from spambots. You need JavaScript enabled to view it.