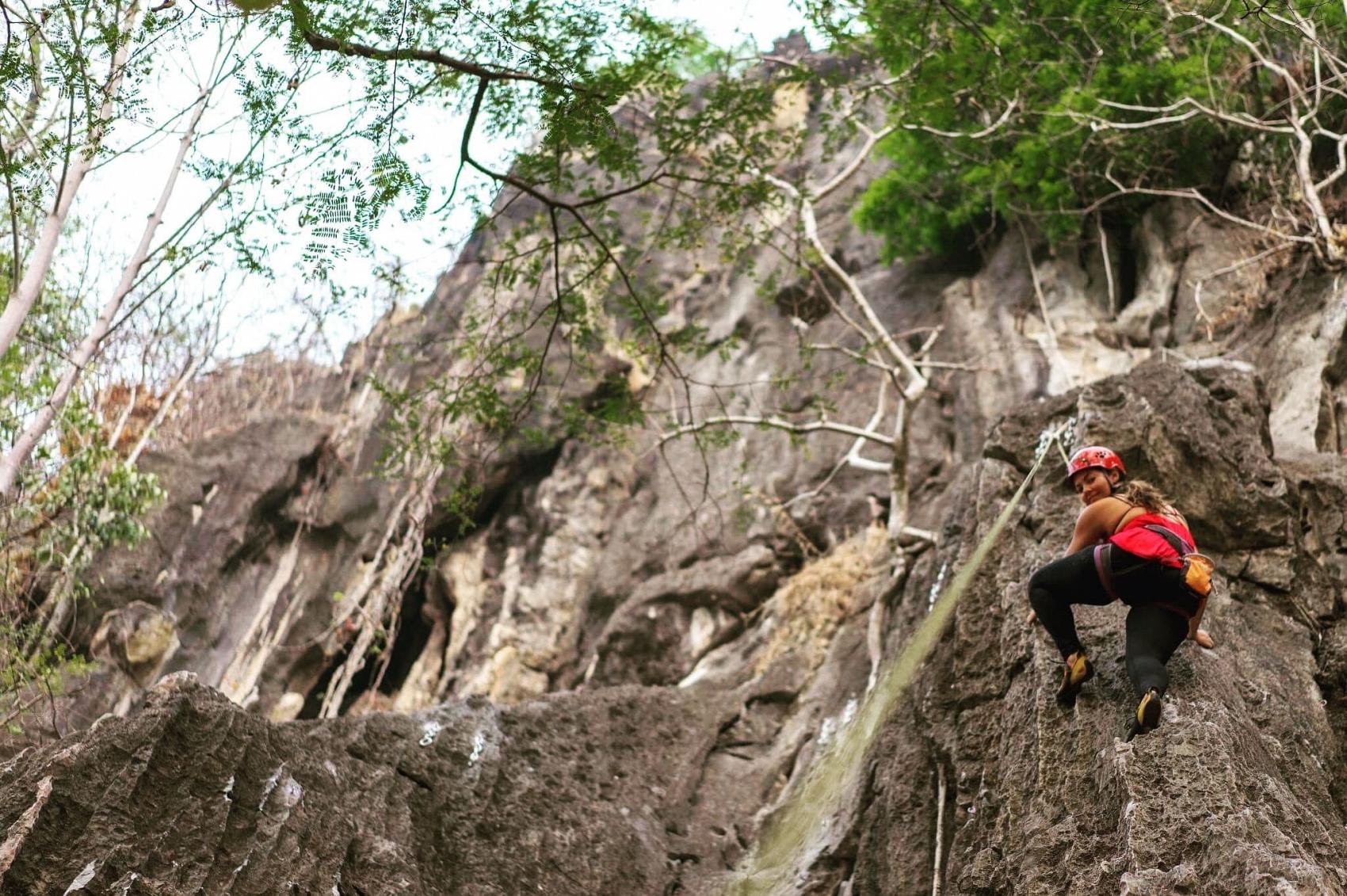 Rock climbing in Thailand
It was a disconnected experience in college followed by a career-ending injury in the military that led Beth Ciaramello to helping disabled service members and others find their true talents and careers though a Scottsdale company.
Oh, and a year-long trip around the world, living in and working from a different country every month. (More on that later.)
Ciaramello, 35, now is home-based in Scottsdale working for LearnKey, a global provider of on-demand education and employability training solutions. Using Know Your Talent's behavior-based surveys and industry certifications, she helps job-seekers with disabilities find not just jobs that they are capable of doing but those that fit their talents, personalities, and passions.
The company has clients worldwide and works with about 300 employers and 1,000 veterans. That allows Ciaramello to work remotely, which she takes full advantage of. She's about to move to Australia for eight months – again, to work remotely, serving Arizona and international job-seekers.
Her history also helped her learn how to do that, so let's back up a few years.
The college try – then the Army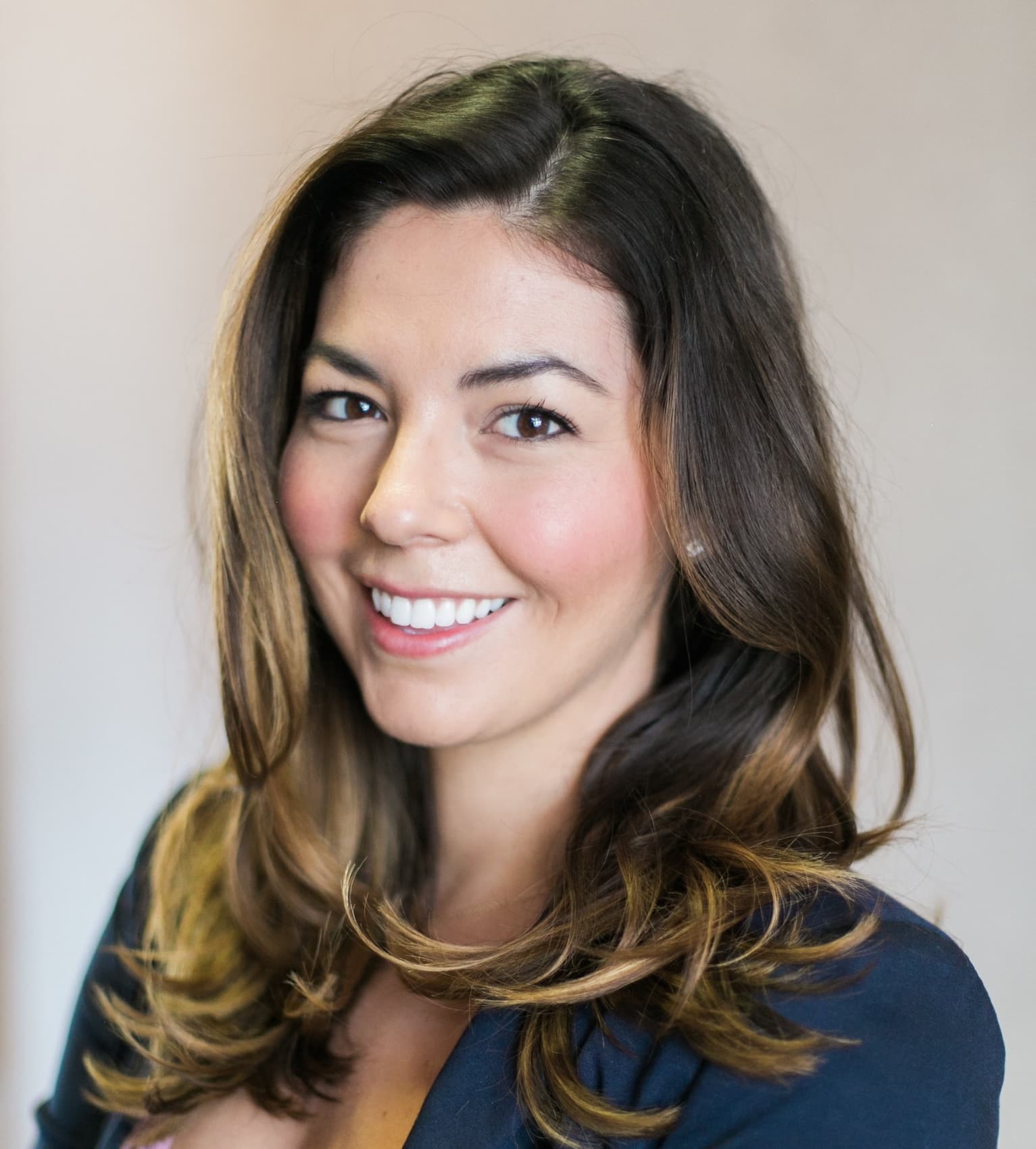 After graduating high school in the Valley, she went to the University of Arizona, and hated it. She recalls not really being ready for college but went anyway . . . because that's what you do. Instead of the dorms, where she would meet new people, she lived in a run-down apartment away from campus.
"It was so ghetto, too disconnected from campus," she recalls, pondering that a "gap year" away from education might have been what she really needed.
"So obviously, my next choice was the military," she said, laughing.
Because she was one of few females in a Military Police unit – and at 5'11" and a former volleyball and softball player – "I was trying to be tough." That led to her falling in a training course and fracturing her pelvis in three places, making it difficult to run.
After a year of the Army and a medical discharge, she found herself a civilian again, wondering what to do.
Finding her passion and niche
She then found herself working for Corinthian colleges as a receptionist and worked her way up, eventually getting to Career Services.
"I just fell in love with coaching and placement, helping people find their niche so they could fit into their career."
But when she was in the final class for her bachelor's degree, the company closed down suddenly, and she was out on the street with a cardboard box of desk supplies.
"I not only lost my education, but I lost my job," Ciaramello said.
She began looking for work that fit her new passion of helping people find their own career passion.
"I was being very picky" she recalled, but "anything related to my role required a bachelor's degree."
So she enrolled into college, earned a B.S. in Business Administration, and "waited for something amazing."
The Scottsdale opportunity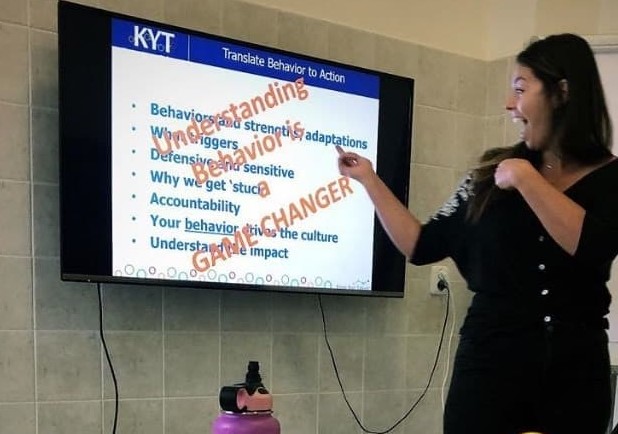 Beth leading a growth and development course
Eventually she started working for LearnKey in Scottsdale, developing its job-ready team. Her program works mostly with veterans who are at least 10% disabled, mainly in IT related certifications. Her role is coaching and training vets in the field of their choice using the vocational rehab program that offers them a stipend while being retrained from their military jobs, which the disability prevents them from doing.
The Know Your Talent's behavior-based surveys analyze individuals not only by aptitude and skills but at a deeper level, including personality type, so the vets are comfortable in the workplace in which they land.
"In the military, you never really sit down and discover your natural strengths," Ciaramello said. "You just do what you're told."
LearnKey's educational pathway process "starts with the end in mind."
She tells of a veteran whose military job required rapid-fire decisions, and he had an epiphany after he took the survey and discovered for the first time his true, more contemplative nature.
He had been struggling professionally and internally, thinking there was something wrong with him. He thought he had personality shortcomings, she said, but "he was just in the wrong job. "
"It was such a fast-paced scenario (in his military job), she said. "The No. 1 driver was quantity over quality, and he really felt he was in the wrong space." The vet wound up in a role that required well-studied analysis with quality over quantity, and he flourished, now making north of $70,000.
Behavior matters in job success and enjoyment. You wouldn't place an extrovert in a program where they would sit in a room all by themselves and analyze data, while a high-conformity personality would do well in a more solitary compliance role.
A new home country every month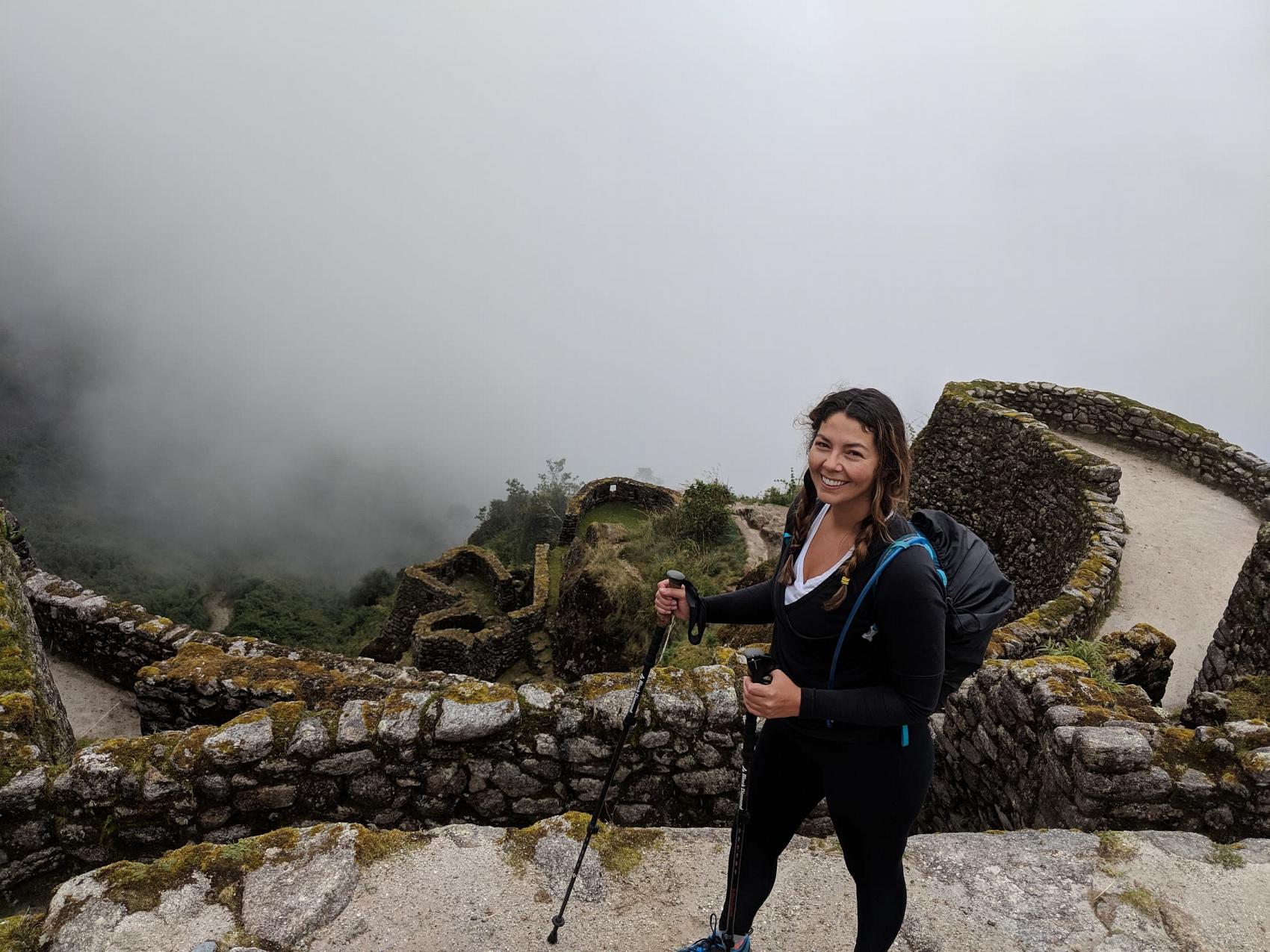 Hiking the Inca Trail in Peru
A couple of years ago, she convinced her employer that traveling is not only good for the soul but helps people understand and connect to a wider range of cultures, personalities, and, interests. Her worldwide travels through an organization called Remote Year also made her better at helping others as it's useful in understanding a wider range of people.
Her year-long-plus sojourn took her to Malaysia, Thailand, Vietnam, Morocco, Croatia, Serbia, the Czech Republic, Portugal, Hungary, Austria, Peru, Colombia, Mexico, and Australia – some on her own before and after the scheduled trip.
She and more than two dozen others lived in apartments, sometimes in roommate settings, working odd hours to keep up with their job duties remotely and immersing themselves in the local culture.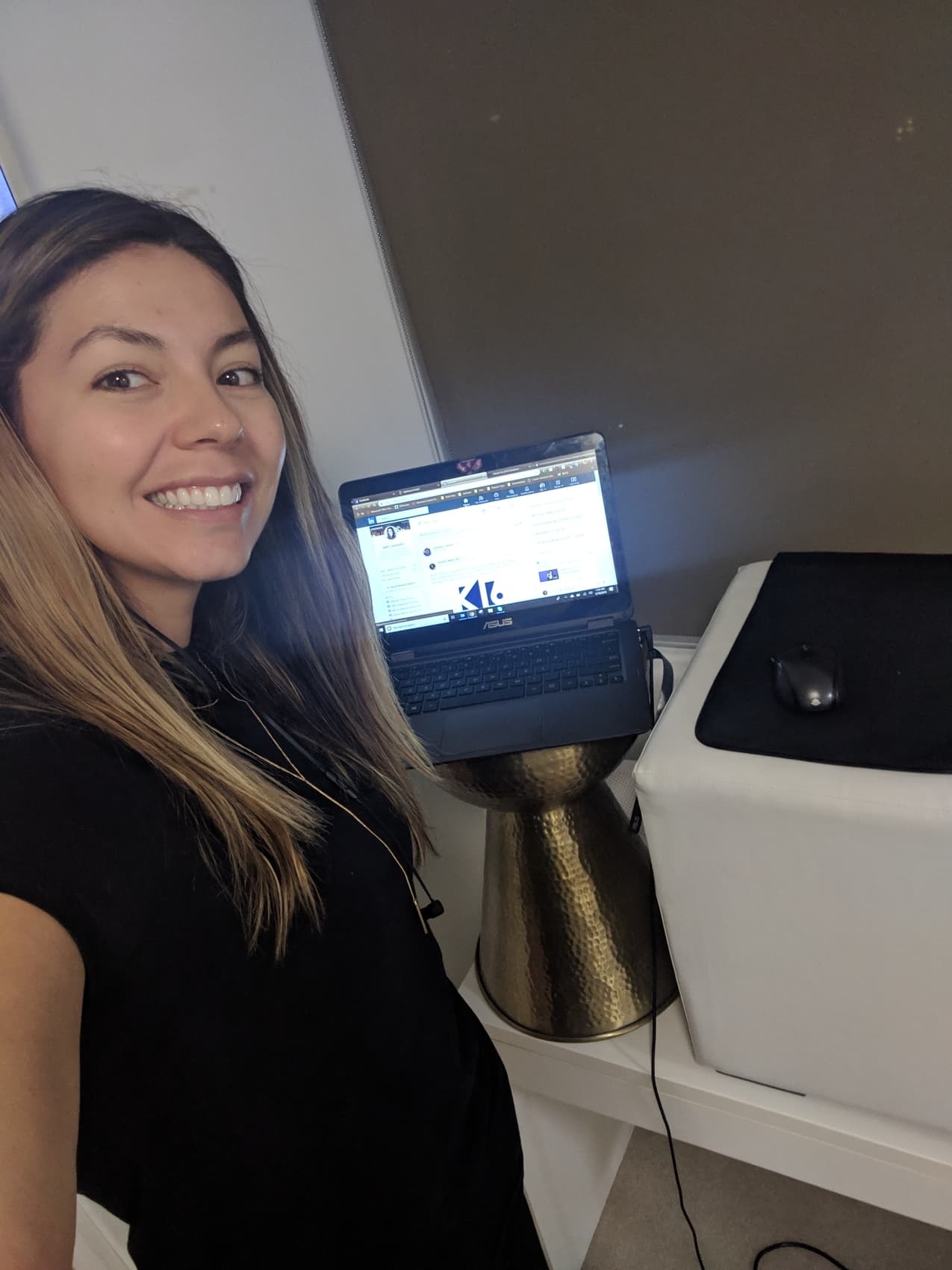 Their travel group was christened "Kanyini," an Australian aboriginal word that means "connectedness." They still had to match hours with the clients in other-side-of-the-world times zones. They worked odd hours, often with exasperating internet connections and other complications, using Skype, Zoom, Go to Meeting and other internet tools. She would video call people "to stay connected and see their faces."
"In Asia; I worked overnight," she said. "In Europe, it was in the evening. In Latin America, it seemed so (comparatively) easy because of the time zone."
"I learned a lot interacting with people in other industries and working with them these crazy hours" she said.
"Sleep is optional. If you're not working, then your adventuring, so sleep is not a priority."
And adventure they did.
She hiked the Inca Trail to the ancient cityruins of Machu Picchu in Peru, and rock-climbed with monkeys in Thailand. They hiked the Atlas Mountains in Morocco and rode camels in the Sahara.
"The Sahara is endless, and it's incredibly beautiful."
Through the group, they would set up local how-to and immersion events, like the time she made a razor-sharp traditional knife in Vietnam – with neither the native instructor nor the students sharing a language.
"I have a video of me fruit-ninja-ing," she said.
Her journeys opened her eyes to what she's good at, and is fulfilled doing – and translating that to clients.
"That's one of my passions, helping people come out of their comfort zone so they can grow and develop personally and professionally. The longer we stay in the comfort zone, the less we challenge ourselves. My hope is to inspire people to get out of their comfort zone so they can test themselves and their limits and grow."
Now it's off to Down Under, where she'll continue working for the Scottsdale office, serving job-seeking vets here and around the planet.
"The more you learn about people, the more you can help them," she said, "so experiencing different cultures elevates my ability to help other people and understand different perspectives."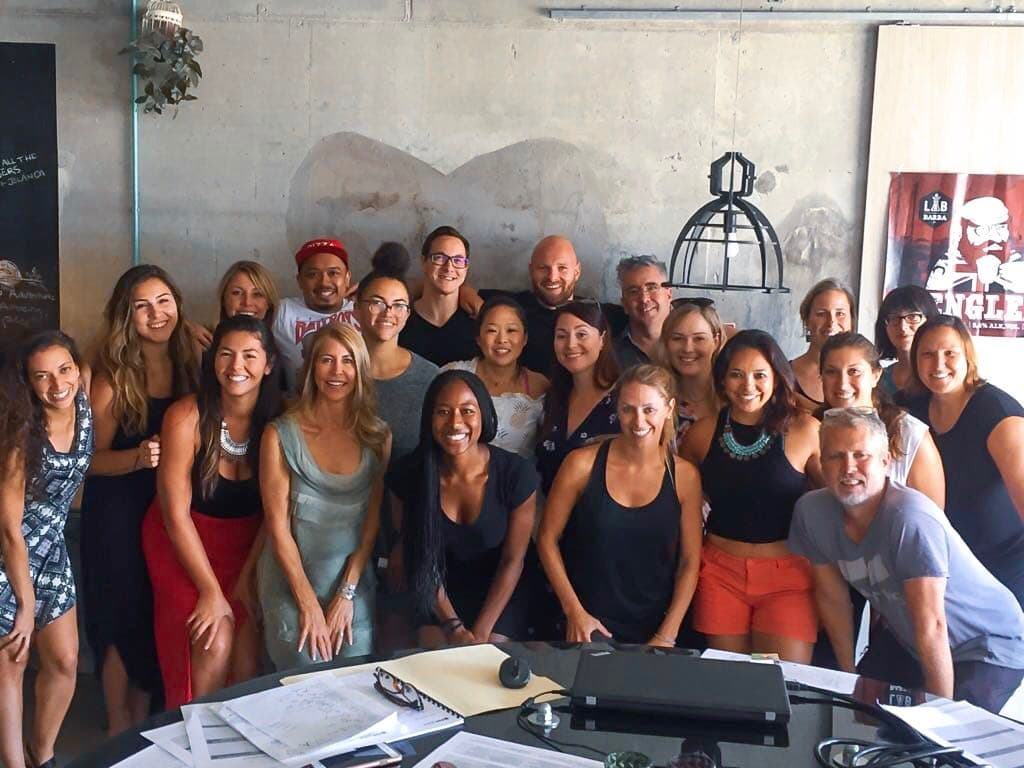 Beth with a growth and development seminar in Croatia