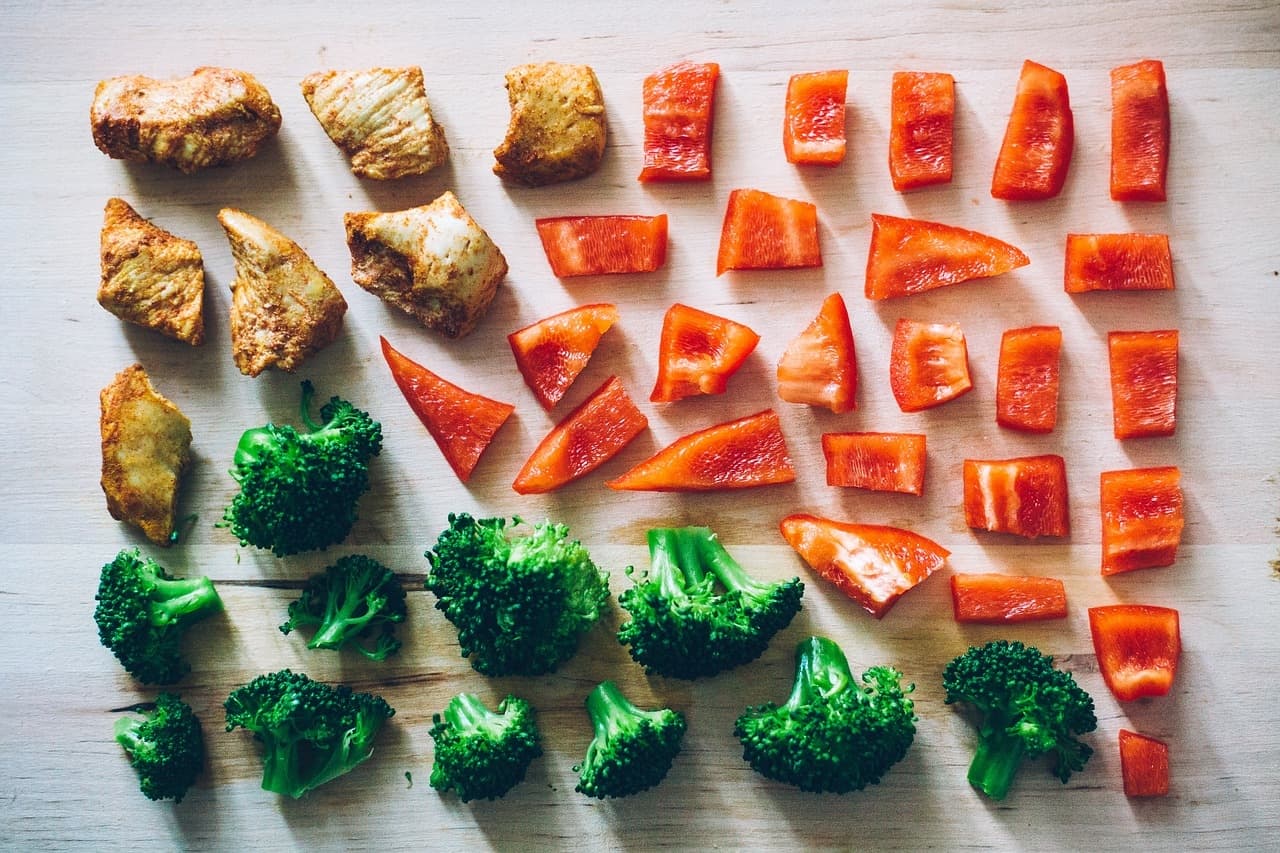 Scottsdale is a great restaurant town, and many of us who have been used to eating out are having to make our own food at home because of the coronavirus, and some of us might be a tad rusty.
Here are three simple and basic – yet different – healthy meals you can cook up yourself in that room with the refrigerator. They all have the same basic foods, but they're not the things the selfish hoarders are stockpiling.
The basic ingredients
Vegetables and fruit not only are good sources of water and healthy food, they also have been in wide supply as the hoarders are buying the stuff with long shelf lives. (Let's hope Costco refuses to return their garages full of toilet paper.)
For these meals, you can use (but don't need all, so pick and choose according to taste):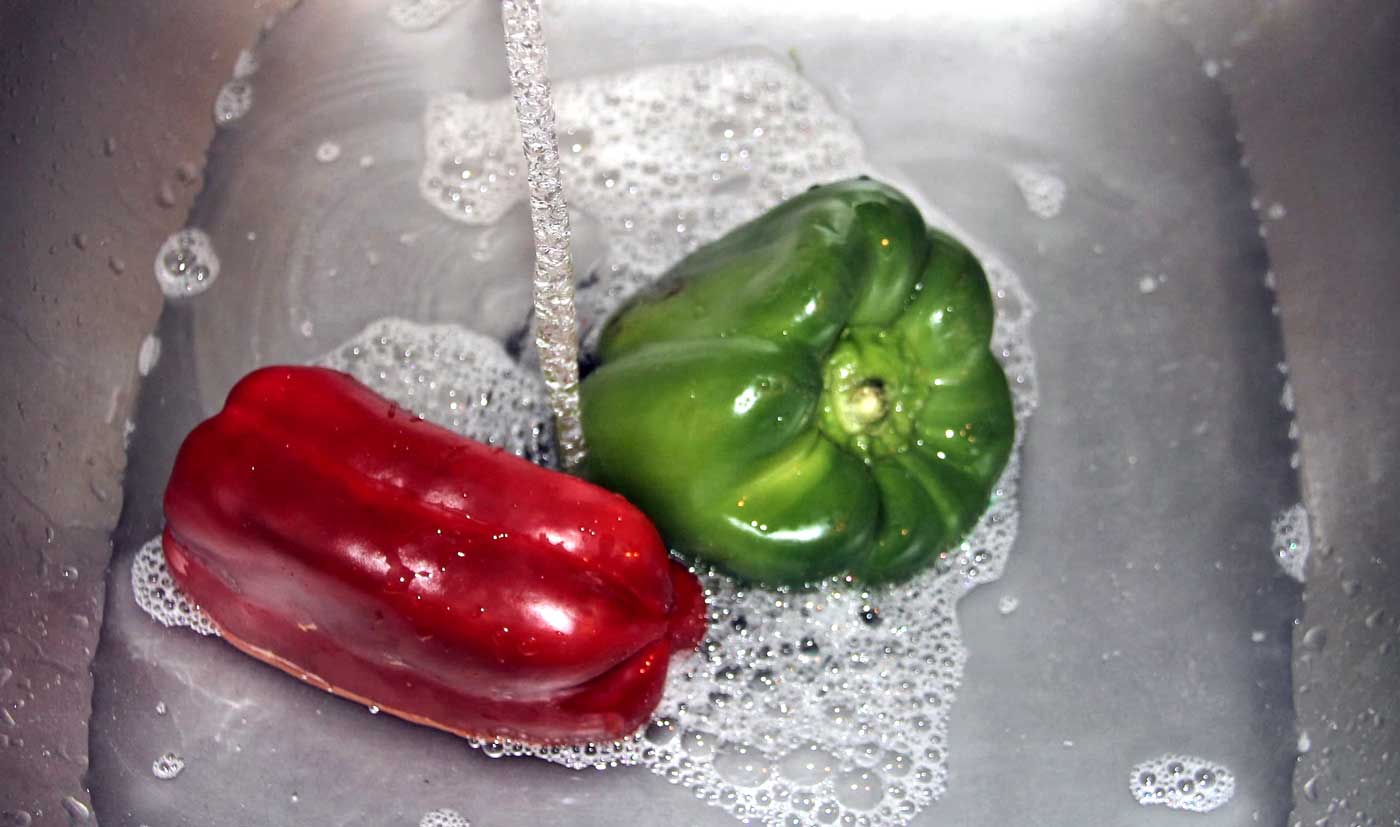 Be sure to wash and dry your veggies and fruit, in soap and water.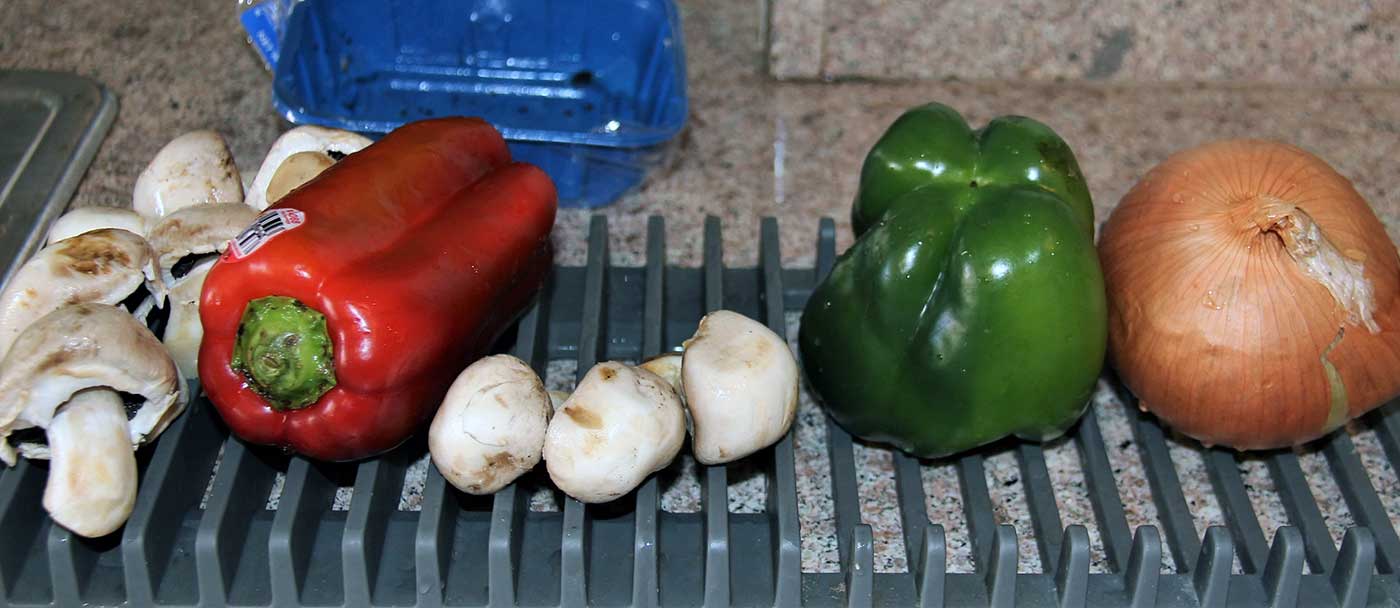 Veggies and fruit
Onions (red, yellow, or green – or all of these)
Bell peppers, green and red
Tomatoes
Broccoli
Cauliflower
Artichoke hearts (in a jar is fine)
Mushrooms
Apples
Pears
Grapes
Meats
Pepperoni
Bacon
Sausage
Hamburger
Chicken
Spices and tastes
Oregano (or Italian spice)
Garlic
Dairy
Cheddar cheese
Feta cheese (whatever cheese you like, actually)
Milk
Eggs
The supreme omelette
An omelette is one of the easiest foods to cook, and you can load it with veggies and meats to your liking. It also takes little time and uses few things that need to be cleaned.
Here's my routine: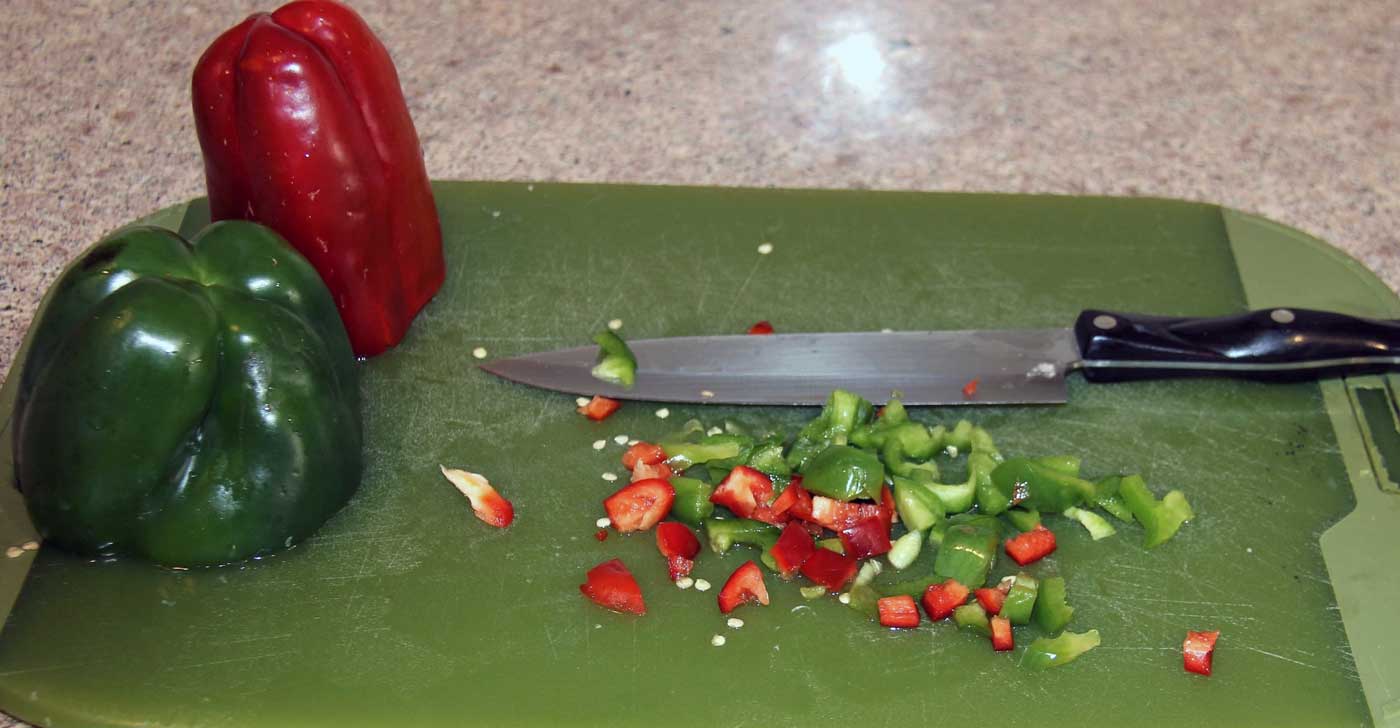 Chop veggies into about quarter inch pieces (see more photos below article.
On a cutting board, cut into small pieces any of the following: Onions (cubed for red or yellow, in quarter-inch or small slices for green onions Bell peppers (same size as onions) Broccoli (about the size of a quarter or nickel) Cali flour (smaller than the broccoli0 Mushrooms, sliced Bacon, cut into bits Other meats, cut no larger than a quarter inch square-foot (chicken, for example). (If you use hamburger meat, cook it first.) Cheddar (or your favorite) cheese, cut into small enough pieces (quarter inch) to allow them to melt Crack eggs, 2 or 2 ½ per person, into a bowl that will hold them all. Add a splash or so of milk to hold the omelet together. Add spices except salt.
We like chorizo, so we cook a bit first in the bottom of a large frying pan. Drain it off to the side. Cook the bacon in the frying pan (or in one of those draining pans for the microwave), pouring off all but the grease needed for the omelet. Put the bacon on a plate with a paper towel to drain grease. Cut some of the bacon into crumbles to add to the omelet while cooking.
With grease barely covering the bottom of the pan, add egg mixture on medium heat. Add vegetables, cheese, and meats. Cook it for several minutes, turning and squishing occasionally to cook evenly (if you're adding toast or bagels, now's the time to toast them).
When you start to see slight browning on both sides, you're done. Salt and serve..eggs and seasoning with milk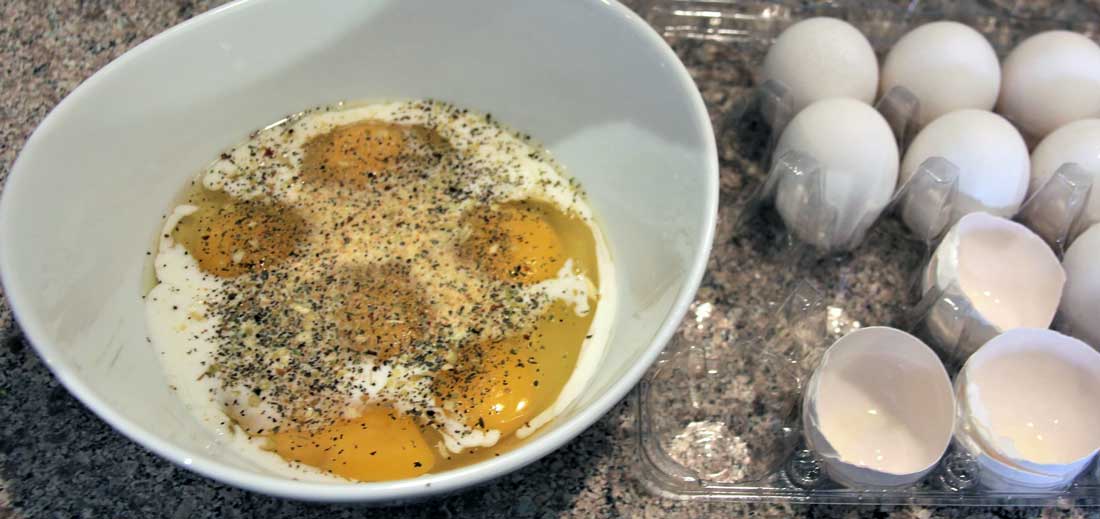 Mix eggs, seasoning and a bit of milk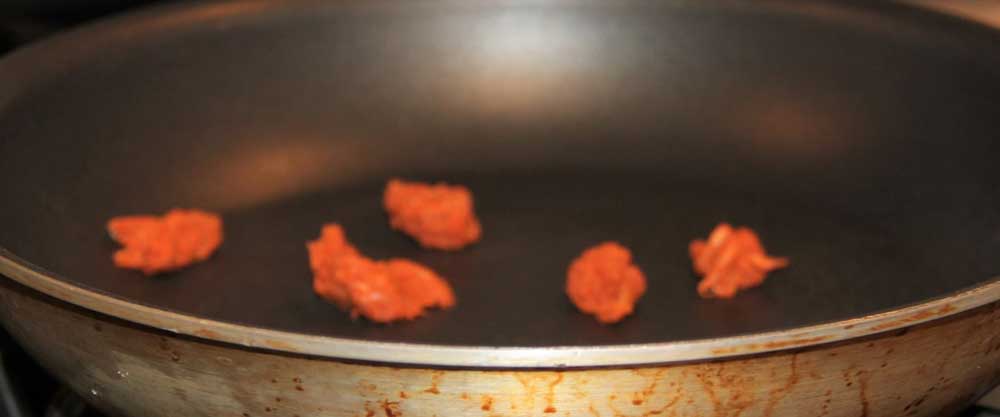 Cook up the chorizo first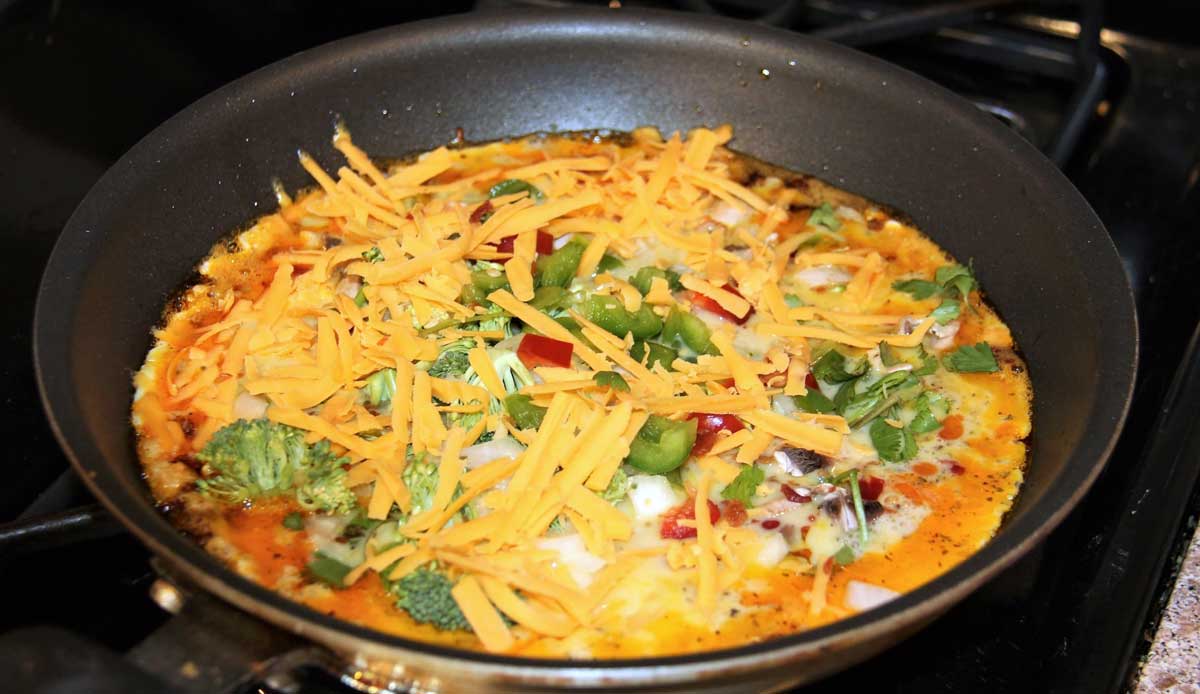 Pour egg mix in pan and add other ingredients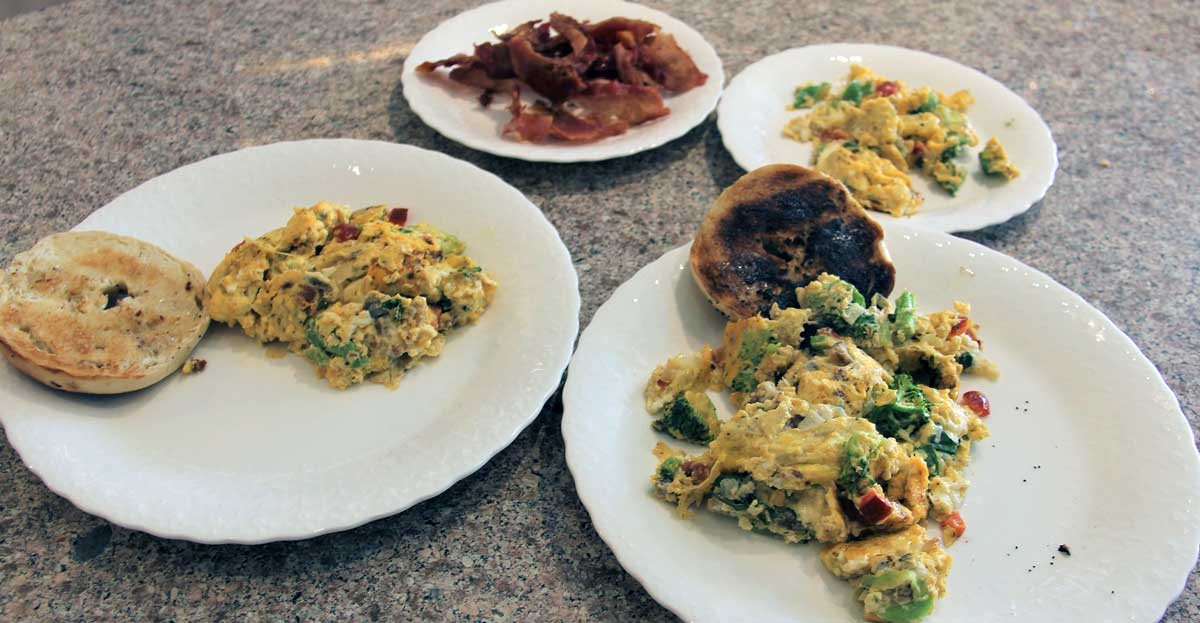 Cook and serve
Gussying up a Costco pizza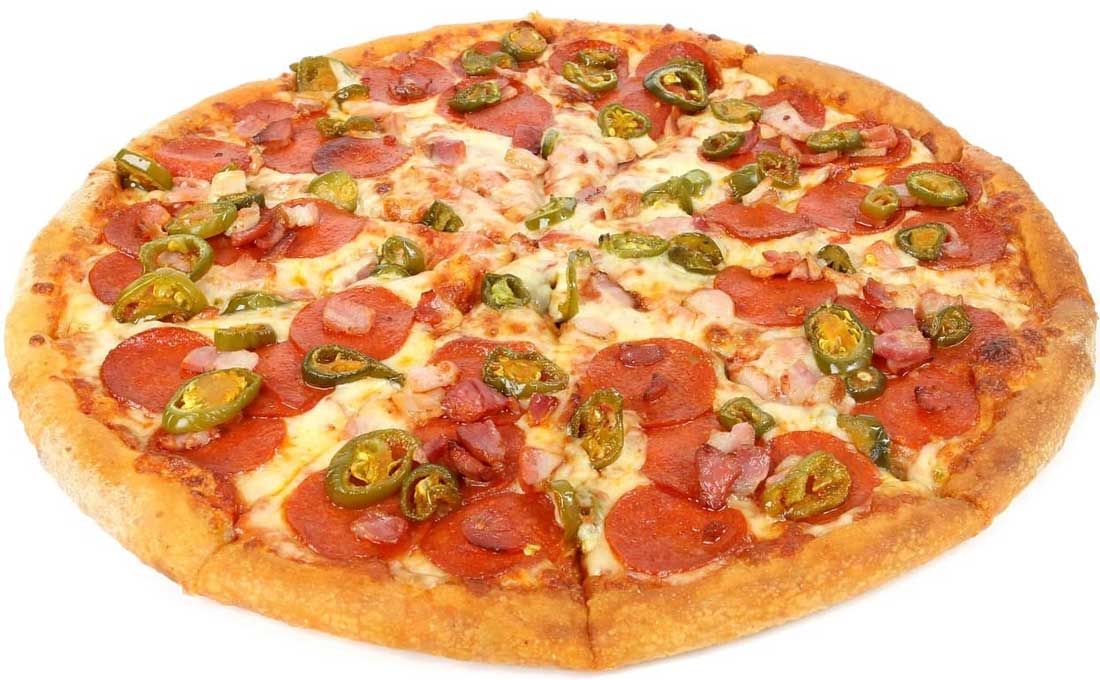 You don't need to go out into the corona world for restaurant pizza or even worry about delivery (although it certainly would help your favorite pizzeria get through this). You also can get a Costco or grocery store frozen pizza and add wild ingredients to make the best Supreme pizza you can.
Here's how:
Get frozen pepperoni pizza out of the freezer (or plain, if you don't like meat). Put tin foil down at the bottom of the oven to catch spillage. Pre-heat oven (generally 425 degrees, but see the package instructions). Cut up the onions, bell peppers, broccoli, mushrooms, and meats the same as for an omelet. Shred cheddar cheese.
While the oven is heating up, pull the frozen pizza out of the package and add the chopped ingredients, meats first, then veggies. Put artichoke hearts, cut thinly, on sparingly (the wife likes them more than I do).
We also like garlic bits, which you can get in a jar, but test sparingly to determine your taste level. Add shredded cheddar on top. When the oven is hot enough, put in the pizza on a low rack. The instructions will tell you to cook for about 12 minutes, but it wall take longer given all the "supreme" elements you've added. I do 15 minutes.
Set the timer, clean the counters and cutting board, and wait. (Wine opening might be a good move here.)
Put it on a big cutting board and wait a couple of minutes before cutting.
The Elaine Big Salad (shout out to you Seinfeld fans)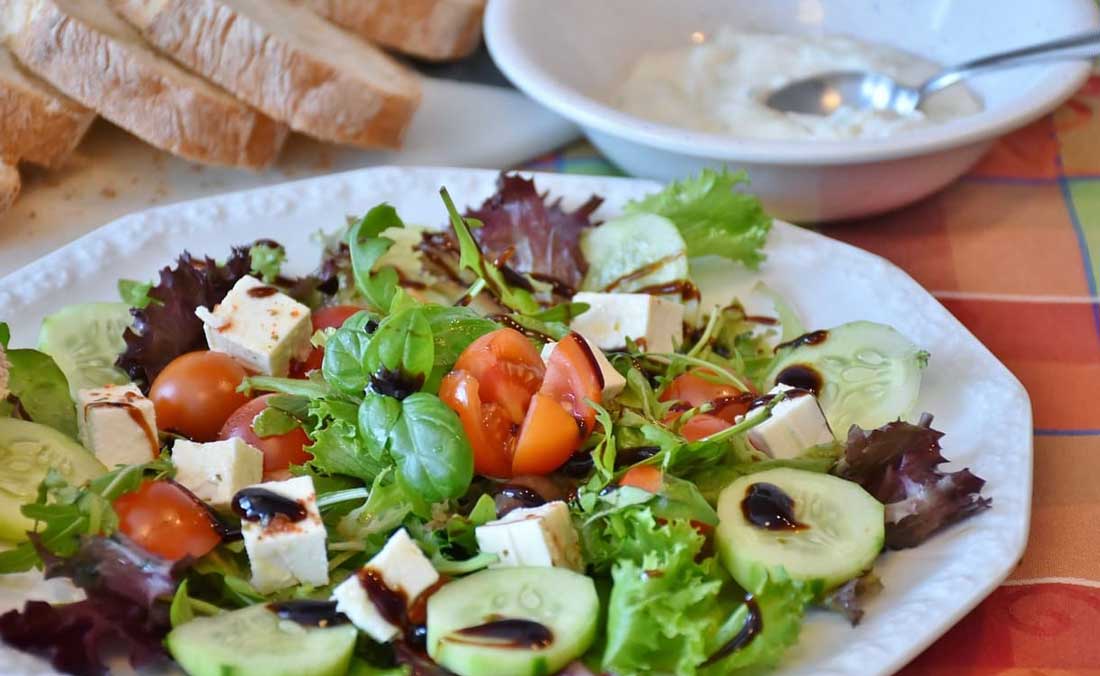 One of the best things about salad is you can put in just about anything you like, and it all pretty much works.
A few things work in salad that don't in omelets and pizza, starting with lettuce. I also like to cube apples and pears and throw in loose grapes – just enough to give it a distinctive flavor without overwhelming it.
Cube the cheese this time.
Add garlic toast bits (available at the 99 Cent Store for a buck).
If you're going to make more than you can eat in one sitting, it's a good idea to hold back the fruit, cheese, and tomatoes separately and add them in subsequent meals so they don't go bad. Same goes for salad dressing.
Kiwi works good in this as well.
By Hal DeKeyser
Other omelette photos: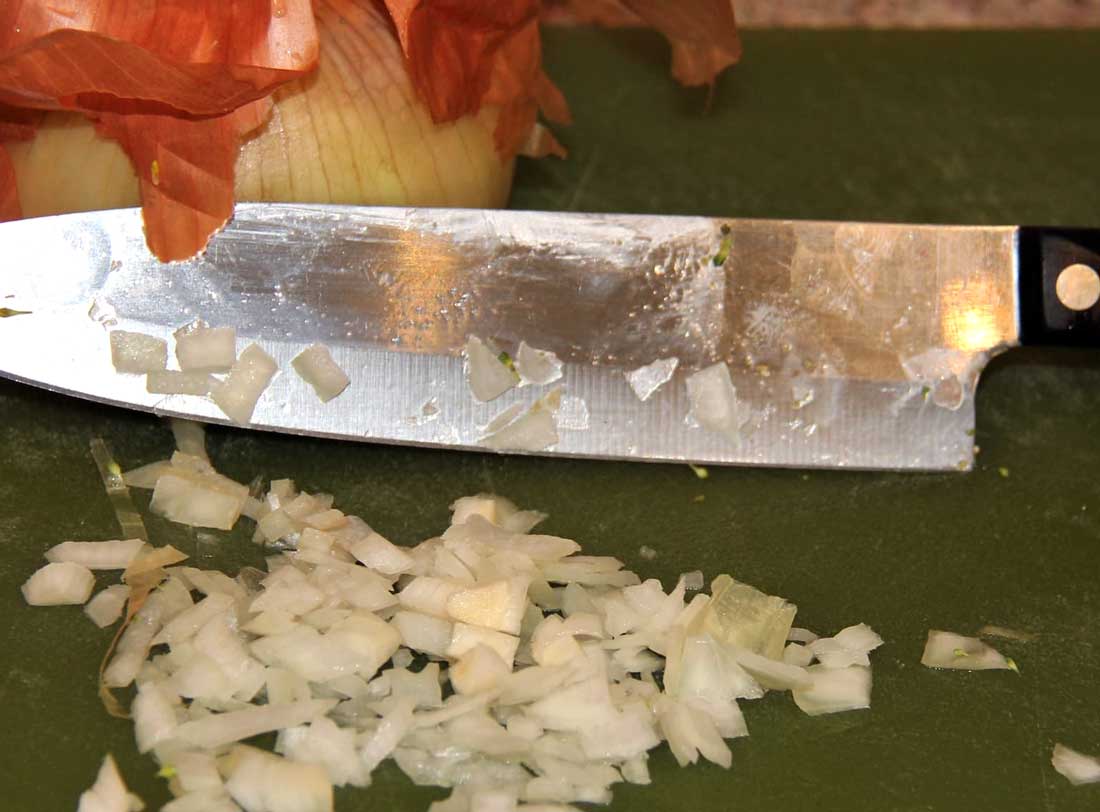 Chop onion to about this size.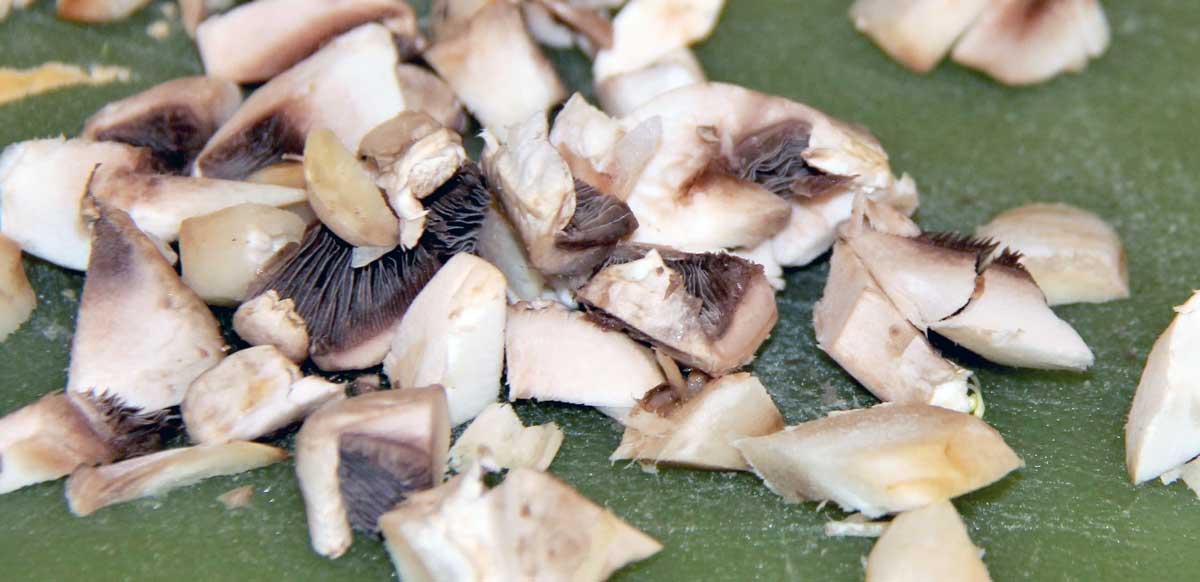 Mushrooms cut up for omelette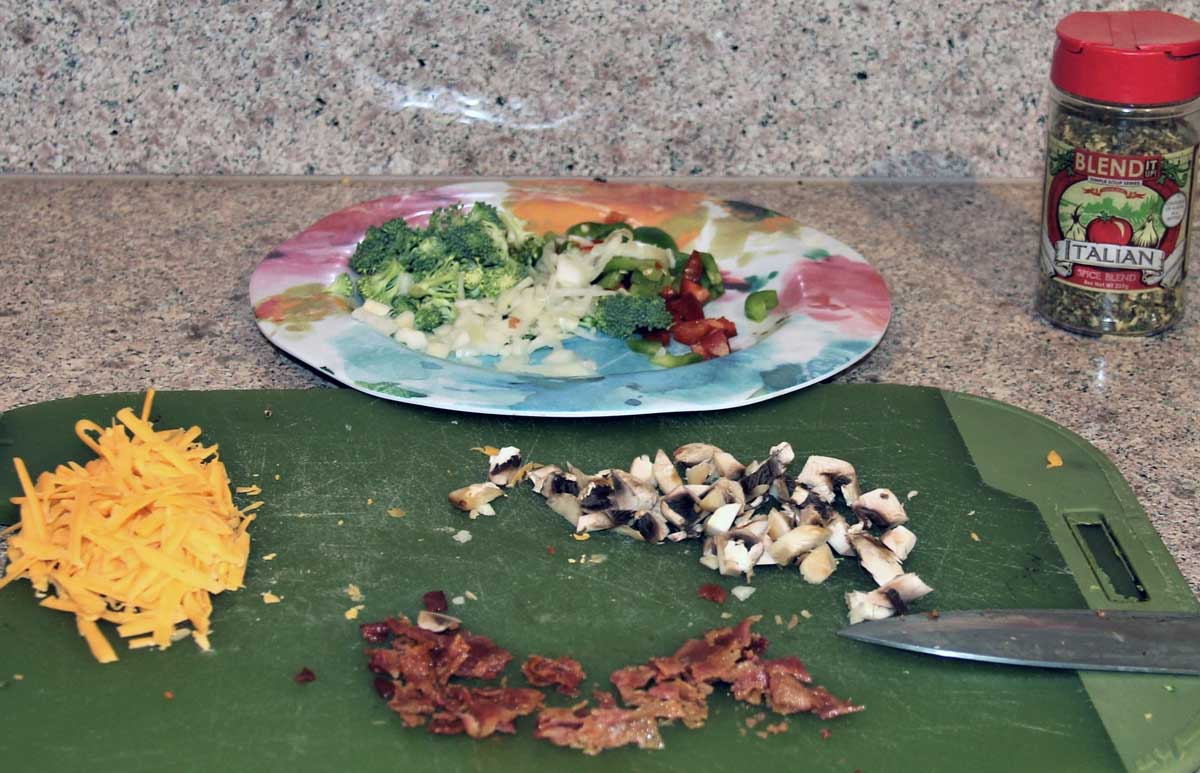 Omelette ingredients